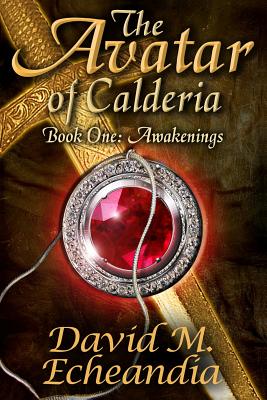 The Avatar of Calderia (Paperback)
Book 1: Awakenings
David M Echeandia, 9780989596213, 376pp.
Publication Date: December 6, 2013
Other Editions of This Title:
Paperback (4/6/2015)
Paperback (5/27/2016)
* Individual store prices may vary.
Description
In old Kal Dathia, a frightened king makes a fateful mistake that spells his country's doom and unleashes an ancient and terrible scourge upon the land. Beset by barbarian invaders, he Awakens a legendary hero known as Rak koth, the Sleeping Savior, not knowing that the Savior is, in truth, a Dark sorcerer who nearly destroyed the world with his black arts before being cast into ensorcelled slumber eight centuries ago. Once revived, this sadistic sorcerer seizes power, conquers an entire continent, and forges an empire built on blood and death. Meanwhile, across the Luminous Sea in the Kingdom of Calderia, Crown Prince Killian grows to manhood, unaware that he carries within him a seed of divine power instilled by the gods. This power has been gifted to a mortal once in each generation against the time of Rak koth's return-and must now be Awakened, if Calderia has any hope of prevailing against the evil emperor who has turned his malevolent gaze upon Killian's homeland as his next conquest. But to do so, the human prince must help to forge an alliance with other warring nations and races of Balleterria, including his blood enemies, the Elves, and their warrior princess, Ellianthia, who would sooner slit his throat and watch him die than join with him in common cause. Somehow, these sworn foes must refrain from killing each other long enough to learn how to work together, gathering other companions along the way as they undertake a long and perilous journey to solve an age-old mystery, find a magic talisman, seek out a lost mage, and save their world from descent into oblivion.
About the Author
I was raised on the East Coast, enduring the freezing winters and loving New York pizza by the slice, the kind you fold in half and start eating with the hot melted cheese dripping down into your mouth. It's the best I've ever tasted, hands down. After being stationed in the San Francisco Bay area while in the Army, I decided to remain in California, where college and grad school tuition was cheaper and the climate more temperate. Now a psychologist, I live here in the sun with my wife and daughter, an elderly Maltese, a brawny Pekingese, and a voracious cat that eats more than both dogs combined. I don't really regret leaving the snow and the cold behind, but I do still miss the pizza. I have been enamored with science fiction/fantasy since I was (as my Georgia-born southern grandmother used to say) "knee-high to a grasshopper." Truly, I could open a used bookstore stocked with nothing but the stacks and boxes of books that I own in the genre, some going way back. Thank the gods for ebooks, because I ran out of room to store the hard copy collection many moons ago. My early loves were authors like Robert Heinlein, Isaac Asimov, Frank Herbert and Ursula K. Le Guin. More recent influences include R.A. Salvatore, Terry Brooks, David Eddings, Raymond Feist and Jacqueline Carey, among many others. I enjoy reading, RPG video games, canning homegrown fruits for preserves, old time radio, more reading, and attending Highland Games festivals (the "M" in my name is for McMaster, after my Scotch-Irish ancestors on my mother's side). In my more extravagant days, I actually had a kilt custom-made in Scotland that was based on the McMaster clan tartan. It's quite beautiful, though all that wool is very heavy. I've been promising to learn how to play "Scotland the Brave" on the bagpipes for too long to take myself seriously anymore, but perhaps one day... ...