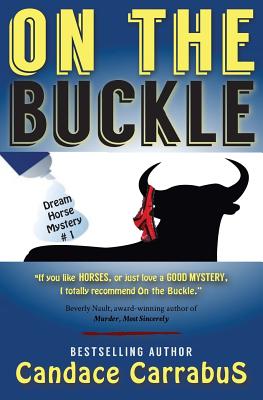 On the Buckle (a Dreamhorse Mystery)
Paperback

* Individual store prices may vary.
Description
Her favorite panties have taken a float downstream without her, and when she finally gets to the store to buy whipped cream, people are already talking about it...yet another bad day for Vi. Smart-mouthed New Yorker Viola Parker might be one of the best show-jumper riders around, but her attitude just landed her out of work.
Again.
She can barely keep her horse in hay let alone support her whipped-cream-in-a-can addiction. Now, all that's between her and a surprise trust fund is keeping a job for one full year by the time she's 30.
And
a glowing letter of recommendation.
But it's hard to keep a civil tongue when within minutes of arriving at her new post at a Missouri horse farm, Vi runs headlong into a bull, has to catch a runaway, and her horse kicks her kilt-clad boss, Robert Malcolm.
If Malcolm doesn't make the farm a success within the year, his father will sell it to developers. The moment Vi and her long legs and keen gaze step into his bull's path, he knows he's in trouble. But someone else has their eye on the land, too, and they will do anything to kill his success.
It's supposed to be a relaxing-boring -year of riding "on the buckle." Between the dead horse visiting Vi's dreams and the dead bodies piling up, the question isn't whether she can keep her mouth shut long enough to earn a reference, but whether she'll live long enough to get it.
Witting Woman Works, 9780989605717, 358pp.
Publication Date: August 3, 2013
or
Not Currently Available for Direct Purchase