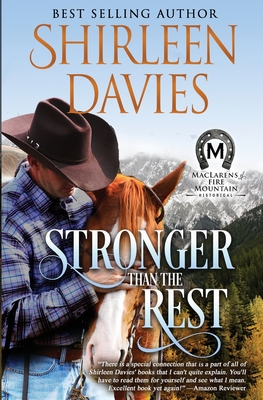 Stronger Than The Rest
Book Four, MacLarens of Fire Mountain
Paperback

* Individual store prices may vary.
Description
"Smart, tough, and capable, the MacLarens protect their own no matter the odds. Set against America's rugged frontier, the stories of the men from Fire Mountain are complex, fast-paced, and a must read for anyone who enjoys non-stop action and romance." Drew MacLaren is focused and strong. He has achieved all of his goals except one-to return to the MacLaren ranch and build the best horse breeding program in the west. His successful career as an attorney is about to give way to his ranching roots when a bullet changes everything. Tess Taylor is the quiet, serious daughter of a Colorado ranch family with dreams of her own. Her shy nature keeps her from developing friendships outside of her close-knit family until Drew enters her life. Their relationship grows. Then a bullet, meant for another, leaves him paralyzed and determined to distance himself from the one woman he's come to love. Convinced he is no longer the man Tess needs, Drew focuses on regaining the use of his legs and recapturing a life he thought lost. But danger of another kind threatens those he cares about-including Tess-forcing him to rethink his future. Can Drew overcome the barriers that stand between him, the safety of his friends and family, and a life with the woman he loves? To do it all, he has to be strong. Stronger than the Rest.
Avalanche Ranch Press LLC, 9780989677332, 326pp.
Publication Date: June 23, 2014
About the Author
Shirleen Davies writes romance-historical, contemporary, and romantic suspense. She grew up in Southern California, attended Oregon State University, and has degrees from San Diego State University and the University of Maryland. During the day she provides consulting services to small and mid-sized businesses. But her real passion is writing emotionally charged stories of flawed people who find redemption through love and acceptance. She now lives with her husband in a beautiful town in northern Arizona. Shirleen began her series, MacLarens of Fire Mountain, with Tougher than the Rest, the story of the oldest brother, Niall MacLaren. Other books in the series include, Faster than the Rest, Harder than the Rest, Stronger than the Rest, and Deadlier than the Rest. Book six, Wilder than the Rest, is due for release in early summer, 2014. Her contemporary romance series, MacLarens of Fire Mountain Contemporary, opened with book one, Second Summer. Book two, Hard Landing, released in April 2014, and Book three, One More day, is scheduled to release in midsummer, 2014. Book one of her newest historical western series, Redemption Mountain, will release in the fall of 2014.