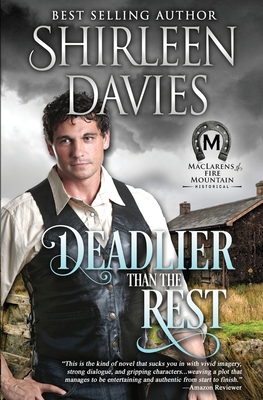 Deadlier Than The Rest (Maclarens of Fire Mountain #5)
Paperback

* Individual store prices may vary.
Description
"A passionate, heartwarming story of the iconic MacLarens of Fire Mountain. This captivating historical western romance grabs your attention from the start with an engrossing story encompassing two romances set against the rugged backdrop of the burgeoning western frontier." Connor MacLaren's search has already stolen eight years of his life. Now he is close to finding what he seeks-Meggie, his missing sister. His quest leads him to the growing city of Salt Lake and an encounter with the most captivating woman he has ever met. Grace is the third wife of a Mormon farmer, forced into a life far different from what she'd have chosen. Her independent spirit longs for choices governed only by her own heart and mind. To achieve her dreams, she must hide behind secrets and half-truths, even as her heart pulls her towards the ruggedly handsome Connor. Known as cool and uncompromising, Connor MacLaren lives by a few, firm rules that have served him well and kept him alive. However, danger stalks Connor, even to the front range of the beautiful Wasatch Mountains, threatening those he cares about and impacting his ability to find his sister. Can Connor protect himself from those who seek his death? Will his eight-year search lead him to his sister while unlocking the secrets he knows are held tight within Grace, the woman who has captured his heart?
Avalanche Ranch Press LLC, 9780989677356, 330pp.
Publication Date: July 8, 2014
About the Author
Shirleen Davies writes romance-historical, contemporary, and romantic suspense. She grew up in Southern California, attended Oregon State University, and has degrees from San Diego State University and the University of Maryland. During the day she provides consulting services to small and mid-sized businesses. But her real passion is writing emotionally charged stories of flawed people who find redemption through love and acceptance. She now lives with her husband in a beautiful town in northern Arizona. Shirleen began her new series, MacLarens of Fire Mountain, with Tougher than the Rest, the story of the oldest brother, Niall MacLaren. Other books in the series include, Faster than the Rest, Harder than the Rest, Stronger than the Rest, and Deadlier than the Rest. Book six, Wilder than the Rest, is due for release in early summer, 2014. Her contemporary romance series, MacLarens of Fire Mountain Contemporary, opened with book one, Second Summer. Book two, Hard Landing, released in April 2014, and Book three, One More day, is scheduled to release in midsummer, 2014.