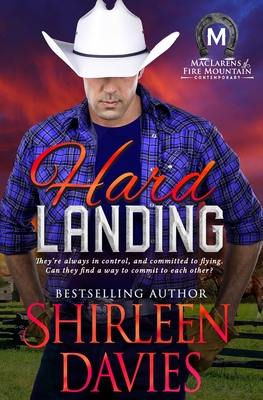 Hard Landing
Paperback

* Individual store prices may vary.
Description
Hard Landing, Book Two in the MacLarens of Fire Mountain Contemporary Romance Series In this passionate Contemporary Romance series, author Shirleen Davies introduces her readers to the modern day MacLarens. Trey "Cowboy" MacLaren is a confident, poised Navy pilot. He's focused, loyal, ethical, and a natural leader. He is also on his way to what he hopes will be a lasting relationship and marriage with fellow pilot, Jesse Evans. Jesse has always been driven. Her graduation from the Naval Academy and acceptance into the pilot training program are all she thought she wanted-until she discovered love with Trey MacLaren . . . . . . Trey and Jesse's lives are filled with fast flying, friends, and the demands of their military careers. Lives each has settled into with a passion. At least until the day Trey receives a letter that could change his and Jesse's lives forever. It's been over two years since Trey has seen the woman in Pensacola. Her unexpected letter stuns him and pushes Jesse into a tailspin from which she might not pull back. . . . Each must make a choice. Will the choice Trey makes cause him to lose Jesse forever? Will she follow her heart or her head as she fights for a chance to save the love she's found? Will their independent decisions collide, forcing them to give up on a life together? Hard Landing is the second book in the MacLarens of Fire Mountain Contemporary series-heartwarming stories of difficult choices, loyalty, and lasting romance. From the Author Join Shirleen Davies' Newsletter to Receive Notice of: - New Releases - Contests - Free Reads & Sneak Peeks To sign up copy and paste this site address into your browser's address bar: http: //bit.ly/1KqhKwm.
Avalanche Ranch Press LLC, 9780989677394, 212pp.
Publication Date: May 12, 2016