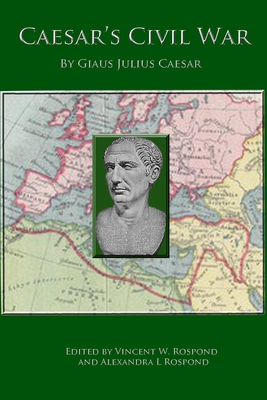 Caesar's Civil War
Paperback

* Individual store prices may vary.
Description
The second book in Caesar's histories This edition of Caesar's account of the Civil War against Pompey and his successors. In addition to the six books by Caesar there are several appendices detailing the people, places and military of the period. This edition also contains twelve maps and illustrations.
Winged Hussar Publishing, 9780989692618, 280pp.
Publication Date: August 7, 2014
About the Author
Gaius Julius Caesar (July 100 BC - 15 March 44 BC) was a Roman general and statesman and a distinguished writer of Latin prose. He played a critical role in the gradual transformation of the Roman Republic into the Roman Empire. Much of Caesar's life is known from his own accounts of his military campaigns, and from other contemporary sources, mainly the letters and speeches of Cicero and the historical writings of Sallust. The later biographies of Caesar by Suetonius and Plutarch are also major sources. His Commentaries on the Gallic Wars is one of two of his writings that have come down to us in modern times. Vincent W. Rospond received his Master's in Eastern European History from the University of Illinois as well as studying at the Jagiellonian University in Krakow and the MBA program at Seton Hall University. He has spent almost 20 years as an executive in the publishing and gaming industry. He started Winged Hussar Publishing, LLC (WHP) as a venture for historians to publish books and articles on lesser known periods of history and give readers access to translated historical documents. His first book for WHP is a new edition of Caesar's Commentaries of the Gallic Wars. In addition to his work at WHP, he is editor of the Journal of America's Military Past, a peered reviewed journal focusing on the people, places and things related to America's military. He currently lives at the sunny New Jersey shore with his wife, kids and dog.
or
Not Currently Available for Direct Purchase