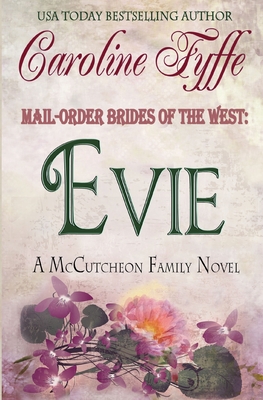 Mail-Order Brides of the West (Paperback)
Evie
Caroline Fyffe, 9780989702515, 228pp.
Publication Date: July 24, 2013
* Individual store prices may vary.
Description
MAIL-ORDER BRIDES OF THE WEST is a new series created in collaboration by USA Today Bestselling Authors Caroline Fyffe and Debra Holland. The well-educated daughter of a lawyer, Trudy Bauer arrives at the St. Louis based Mail-Order Brides of the West agency full of excitement for an adventure of a lifetime. She befriends the agency's maid, Evie Davenport, and the two form a strong and lasting friendship. They vow to stay in contact through letters when Evie takes hold of her destiny and arranges a marriage on the sly. Each brave young woman is ready to face whatever an unknown groom and life in Montana can throw her way. In Fyffe's Novel, house servant Evie Davenport travels by stagecoach to Y Knot, Montana in a McCutcheon Family Novel. In Holland's book, bride-to-be Trudy Bauer rides the train to Sweetwater Springs, in a Montana Sky Novel. Through their correspondence, the friends keep each other abreast of their hardships, trials and tribulations-some of heartbreak, some of love. Watch for more exciting Mail-Order Brides of the West books to come....