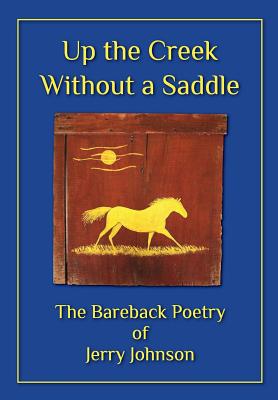 Up the Creek Without a Saddle
Paperback

* Individual store prices may vary.
Description
In this celebrated book, UP THE CREEK WITHOUT A SADDLE, award-winning poet Jerry Johnson has created a universal memoir of life experiences. Animals, the natural world around us, people, first loves, loss, joy, and so much more breathes in his poetry full of treasured images. The words portray life on many levels, the images stay with you, and there is a feeling of kinship with what is described. It is a joy to read this book, and to give it as a gift to others that will be treasured forever. Sixteen of the book's 99 poems were beautifully set to music by Jon Gailmor and Pete Sutherland, two of Vermont's most beloved and legendary troubadours. A CD of those songs is available on the poet's website vtpoet.com.
Creek Road Press, 9780989704830, 172pp.
Publication Date: February 3, 2014
About the Author
Jerry Johnson lives on a farm in northern Vermont. The stimulus for much of UP THE CREEK WITHOUT A SADDLE stems from the natural beauty of this Vermont locale. His book has received applause from several noted poets and writers. Jerry is a retired professor from Fitchburg State University in Massachusetts where he was a finalist for the school's excellence in teaching award. He taught for 29 years at the middle school, high school and college levels. In addition, he has been a civil engineer, tennis pro, carpenter, artist, freelance writer and editor. Jerry is a graduate of the University of Massachusetts in Amherst, where he was honored with the Eastern College Athletic Conference Award as the school's top student-athlete. Jerry was interviewed about his book on Vermont Public Radio. To listen to the interview, go to http: //digital.vpr.net/post/nek-poets-words-put-music To learn more about UP THE CREEK WITHOUT A SADDLE and Jerry, stop by his website www.vtpoet.com.