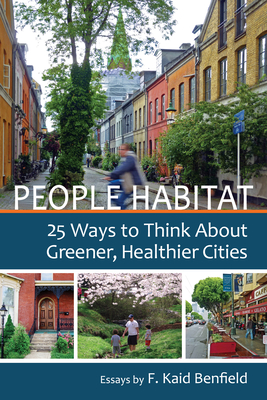 People Habitat
25 Ways to Think About Greener, Healthier Cities
Paperback

* Individual store prices may vary.
Description
With over 80 percent of Americans now living in cities and suburbs, getting our communities right has never been more important, more complicated, or more fascinating. Longtime sustainability leader Kaid Benfield shares 25 enlightening and entertaining essays about the wondrous ecology of human settlement, and how to make it better for both people and the planet.

People Habitat explores topics as diverse as "green" housing developments that are no such thing, the tricky matter of gentrifying inner cities, why people don't walk much anymore, and the relationship between cities and religion.  Written with intellect, insight, and from-the-heart candor, each real-world story in People Habitat will make you see our communities in a new light.
Praise For People Habitat: 25 Ways to Think About Greener, Healthier Cities…
"People Habitat promises to give us 25 ways to look at greener, healthier cities, but as anyone who has read one of Kaid Benfield's books, articles, or blog posts knows, he delivers at least that many insights on every page. He doesn't just love cities—he gets them, in all their social, demographic, economic, and almost always paradoxical and volatile complexity."
— Richard Florida, co-founder and Editor-at-Large, "The Atlantic Cities"
"Kaid Benfield's writings about the shape and strength of our communities constantly challenge readers to think about issues and problems in new ways. He correctly reminds us that 'green' is not always green, 'sustainable' is often not, and 'smart growth' is more than a tag to be hung on a new project like a sales ticket."
— Hon. Parris N. Glendening, Governor of Maryland, 1995-2003
"Kaid Benfield, like Jane Jacobs, is a talented writer who isn't burdened by preconceptions or jargon, who can explain the ideas of others or express his own in a style that is accessible and comprehensible. These 25 essays are not just about cities; they are about making sense of the way we live."
— Lloyd Alter, Managing Editor, Treehugger.com
"Kaid Benfield, an environmentalist who loves cities, exposes the phoniness of claiming 'green' status for buildings that can only be reached by car. If you love cities, you'll love Kaid's book."
— Hon. John O. Norquist, former Mayor of Milwaukee; author of "The Wealth of Cities"
"I strongly encourage anyone with even a passing interest in the quality of the place where they live to read Kaid Benfield's writing. His framing of the ecology of 'people habitat' is immensely useful in celebrating how an enormous number of small actions to create healthier local places can contribute to a healthier planet."
— Keith Laughlin, President, Rails-to-Trails Conservancy
"Reading this book was like sitting around a fire talking about city life with an old friend. If you have not read Kaid before, he will quickly feel like an old friend, talking directly from and to the heart, getting to the essence of what makes places that we love and what we can do to make more places like them."
— TreeHugger
"...Benfield shows he is no dogmatic New Urbanist; he sees the value of design and nature."
— ASLA's The Dirt blog
"It's truly a delightful and leisurely read, and... points to how we need to get over our addiction to fossil fuels, invest our time and thought in how we build our primary communities, and the importance we place on preserving not just the natural world, but our cities, for future generations."
— Daily KOS
"On the whole, people who care about the shaping of the built environment—from neighborhoods to regions—will find Benfield's book stimulating and immensely readable. And more than that: wise."
— Better Cities & Towns
"...this is the discourse we desperately need in planning and designing our cities..."
— Sustainable Cities Collective
People Habitat Communications, 9780989751100, 304pp.
Publication Date: January 6, 2014
About the Author
F. Kaid Benfield is Senior Counsel for Environmental Strategies at PlaceMakers LLC.  He is also a senior adviser to the Natural Resources Defense Council (NRDC) and an adjunct professor at the George Washington University School of Law.  Kaid is a co-founder, LEED for Neighborhood Development rating system; co-founder, Smart Growth America coalition; author of several books on smart growth and sprawl; and a regular contributor to several publications including The Huffington Post, the Sustainable Cities Collective, and Better! Cities & Towns.  Based in Washington, DC, Kaid was selected as one of the world's "top urban thinkers" on the city planning website Planetizen and one of "the most influential people in sustainable planning and development" by the Partnership for Sustainable Communities.

or
Not Currently Available for Direct Purchase