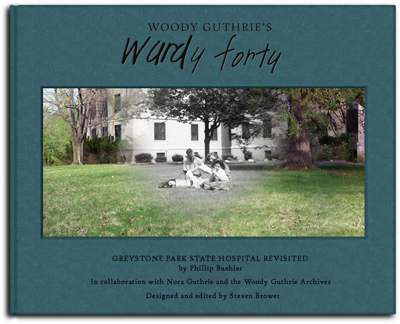 Woody Guthrie's Wardy Forty
Greystone Park State Hospital Revisited
Hardcover

* Individual store prices may vary.
Description
Through never-before-published letters, historic family photos, and rare interviews, Woody Guthrie's Wardy Forty explores the five years Woody spent at Greystone Park State Hospital in NJ. He was a patient there from 1956-61, in Ward 40 and called it "Wardy Forty." Along with contemporary photographs of the now-abandoned hospital, these years are brought to life.

"When Phil Buehler came to me with his photographs, I knew immediately that this would be the way to communicate and hopefully illuminate Woody's heretofore unexplored life with Huntington's disease. As he so often determinedly proclaimed, 'I ain't dead quite yet'." - Nora Guthrie

INCLUDES:
• 70+ contemporary color photos of the now-abandoned hospital
• 30+ rare family photos from Nora Guthrie's personal collection
• Historic, never before seen photos by world-renowned photographer John Cohen and Guthrie's close friend Bob Gleason
• Personal letters from Guthrie written at Greystone
• Archival documents from the Guthrie Archives
• Interviews with Marjorie Guthrie, Arlo Guthrie, Ramblin' Jack Elliott, Harold Leventhal, and others
• Previously unpublished handwritten lyric by Bob Dylan
• Essay by Alice Wexler, Phd. on Huntington's disease
Praise For Woody Guthrie's Wardy Forty: Greystone Park State Hospital Revisited…
"A hauntingly beautiful book" - A.M. Homes, Best Books of 2013 / The Guardian
"Must Read Books" - The New York Post

"Adds layers of depth to a largely undocumented chapter in the life of a monumentally influential historic figure." - The Daily Record

"It's a tragic, yet heart-lifting story." - Al Jazeera America

"These years of Woody's life have been all but passed and glossed over. It's a story that's needed to be told for a long time." - No Depression
Woody Guthrie Publications, Inc., 9780989752107, 162pp.
Publication Date: November 11, 2013
About the Author
I've been photographing "modern ruins" for over 35 years. In 1974, when I was in high school, I rowed to Ellis Island with a friend to make a film about the then-abandoned island. In the years since, I've explored and photographed dozens of ruins. It often feels like a race to save something about the place before its torn down. Many of my photographs are the surviving record of places that have since been torn down, like the Thunderbolt roller coaster, the Alcoa Factory, Fort Slocum, Marine Land Park, the West Side Highway.

After photographing a site, I'll start researching through archives, online sources, and interviews with people once connected to the place. Each project becomes one of Alice in Wonderland's rabbit holes: I never know what I will find, but I always learn something about myself.

Remembering my own childhood fears about nuclear war as I climbed through scrapped B-52 bombers in the airplane graveyard in Arizona, or excitement at the 1964/64 New York Worlds' Fair as I explored its ruins years later, or curiosity about my grandparents traveling back to Germany for the first time since the war as I explored the now-derelict S.S. United States ocean liner. In the end I look to create a work of art that brings some of what I've discovered to others, so they may, perhaps, discover something about themselves.

"Woody Guthrie's Wardy Forty" is my first book. I see it almost like an art exhibit—I hope you'll wander back and forth between the pages and make your own personal connections, whether as a fan of Woody's music, as someone who is affected by Huntington's Disease, or someone interested in history or historic preservation.

Was a high wall there that tried to stop me
A sign was painted said: Private Property,
But on the back side it didn't say nothing —
This land was made for you and me.
-Woody Gurhrie
or
Not Currently Available for Direct Purchase