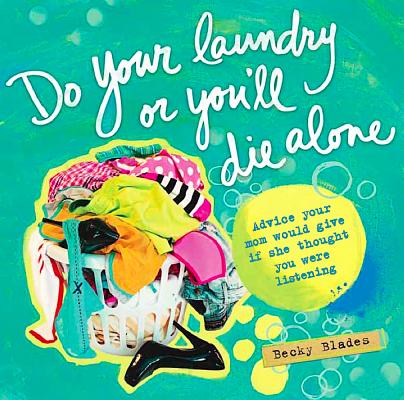 Do Your Laundry or You'll Die Alone
Advice Your Mom Would Give If She Thought You Were Listening
Paperback

* Individual store prices may vary.
Other Editions of This Title:
Hardcover (4/5/2016)
Description
When Becky Blades sent her firstborn daughter off to Harvard, she knew the world's top ranked college would not be covering the most important material: How to be kind, happy and appropriate in public how to protect oneself from sock monsters, boring conversations and scary dates why to keep the clothes clean. So the day before classes started, Blades e-mailed a good-bye letter with motherly advice she had kept to herself for a year. Just in time for her youngest daughter's graduation from high school, Blades illustrated the prose with her signature mixed media artwork, creating a thought-provoking, conversation-starting book. With warmth, wit, and a hint of motherly sass, Do Your Laundry, or You'll Die Alone: Advice Your Mom Would Give if She Thought Your Were Listening blends bite-sized morsels of coming-of-age common sense such as "Keep at least one stuffed animal," and "A bad attitude makes your butt look big," with tiny essays on topics like forgiveness and phone etiquette. The perfect gift from mother to daughter or from friend to friend, Do Your Laundry Or You'll Die Alone is wise counsel for women of all ages, reminding us to trust our instincts and to show our dreams who's boss.
Startistry Publishing, 9780989758307, 160pp.
Publication Date: April 1, 2014
About the Author
Becky Blades is a writer, artist, business strategist, and philosopher of creative, adventurous living. Since selling her award-winning public relations firm, Blades has served on corporate boards, as a civic advocate for the arts and entrepreneurship, and as a consultant and mentor. A graduate of the University of Missouri School of Journalism, Blades speaks on topics including creativity, entrepreneurship, marketing, public relations, the French culture, and women's issues. Her blog, stARTistry.com, celebrates the art of beginning. She has started 2,865 projects and finished 127. Among the unfinished are two almost-launched daughters, proving her point that it s not what you finish, it s what you stART. She lives in Kansas City with her husband of 30 years and her Maytag front load washing machine."
or
Not Currently Available for Direct Purchase