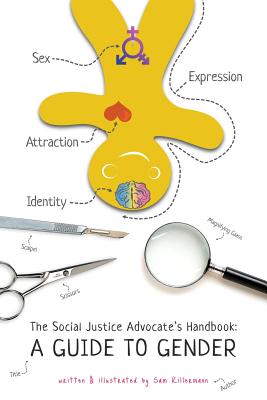 The Social Justice Advocate's Handbook (Paperback)
A Guide to Gender
Impetus Books, 9780989760201, 252pp.
Publication Date: September 4, 2013
* Individual store prices may vary.
About the Author
Sam Killermann is a comedian and social justice advocate, and the guy behind It's Pronounced Metrosexual, a one-man comedy show and blog about snap judgments, identity, and oppression (but in a to- tally funny way). He travels the country performing the show at colleges and universities, and writes articles about social justice, gender, and sexuality when he's not on the road. His work has appeared in the New York Times, The Atlantic, and your Facebook news feed. Sam's obsession with understanding gender comes from his own experiences with gender and sexuality. He's constantly incorrectly assumed to be gay, which has everything to do with his gender and little-to-nothing to do with his sexuality. Gender is one of those things everyone thinks they understand, but most don't really understand at all. Kind of like the usage of the word -irony- (isn't that ironic?). As a self-labeled -social justice comedian, - he spends a lot of his time trying to prove to people that this label makes sense. Sam is a dedicated ally and advocate, and blends humor into much of the work he does because he believes (like Mary Poppins believed) that sugar helps the medicine go down. Outside of It's Pronounced Metrosexual, Sam runs a non-profit he founded called Gamers Against Bigotry, is the co-creator of The Safe Zone Project, is always working on new social good projects, and likes to spend a least a couple hours a day cycling around sunny Austin, TX, where he counts himself as lucky to live.
or
Not Currently Available for Direct Purchase