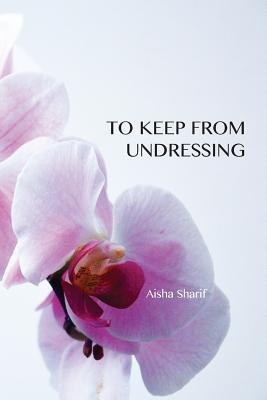 To Keep from Undressing (Paperback)
Spark Wheel Press, 9780989783767, 100pp.
Publication Date: January 22, 2019
* Individual store prices may vary.
Description
Aisha Sharif's debut collection is an exploration in belonging--to a family, to a community, to a faith. In poems that navigate the boundaries of these different types of belonging, Sharif examines both what is lost and what is gained.
Praise for To Keep From Undressing
Muslim narratives, bodies, and lineages don't just matter; they make up the American fabric, both historic and contemporary, and woven within that fabric is a tradition rooted in the same ideals and morals and complications as all other American narratives. Sharif's poems deconstruct the hijab not for metaphoric purposes, or to serve as a simplified how-to manual for the unlearned. The hijab becomes a directional marker into the poet herself, wondering "how to truly unwrap myself." And what we find is the good work of poetry: desire, regret, mis-spoken languages, vulnerabilities. --F. Douglas Brown, author of ICON, and Zero to Three, winner of 2013 Cave Canem Poetry Prize
To Keep from Undressing, Aisha Sharif's timely debut collection, reveals the type of honesty that gets you uninvited to family reunions. Sharif requires honesty, not only of those she speaks of in her poems, but also of herself. The undressing comes from the wrestling with the truth of the discomfort but also the beauty of what we now call intersectionality but what has been long known as being a black woman in America-- a folding and unfolding, a combination of internalized faith, motherhood, men, family and unshakable identity. --Natasha Ria El-Scari, author of The Only Other
In nature, the greatest richness appears at the edges between habitat zones--between meadow and forest, oasis and desert, sea and shore. The same can be true of poetry that explores the edges between seemingly disparate realms or rival qualities, as in this fine collection by Aisha Sharif. She speaks in these poems of how it feels to be both Muslim and black, faithful and doubting, obedient and rebellious. --Scott Russell Sanders, author of Earth Works
From the intersection of Black culture and religion, to conversations with jinn, to motherhood, marriage and the meaning of hijab, To Keep From Undressing beautifully melds private and public, interweaving bold and delicate themes into a one-of-kind tapestry of words and freeing truths. The reading experience is just as therapeutic to the reader as the writing was for the writer. That is the mark of pure magic. --Nadirah Angail author of On All Things That Make Me Beautiful and What We Learned Along the Way