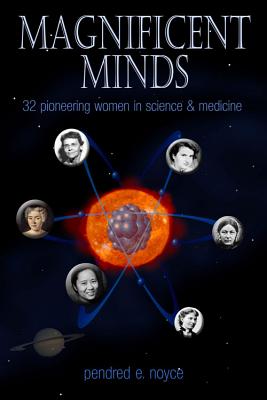 Magnificent Minds (Hardcover)
16 Pioneering Women in Science and Medicine
Tumblehome Learning, Inc., 9780989792479, 180pp.
Publication Date: March 1, 2015
Other Editions of This Title:
Paperback (9/1/2016)
* Individual store prices may vary.
Description
Winner of:
National Science Teachers Foundation/Children's Book Council, Outstanding Science Trade Book Award

Full of the inspirational stories girls need for exploring a future in science

Did you know that Florence Nightingale pioneered the use of statistics in public health? That Marie Curie is still the only person to have won the Nobel Prize in both physics and chemistry—and the only winner whose daughter also won a Nobel Prize? That in the 17th century, the most accomplished scholar in mathematical astronomy was a Polish woman, Maria Cunitz? That the pysicist who first explained nuclear fission was a woman, Lise Meitner?That two of the pioneers of computer science were women, Ada Lovelace and Grace Hopper? For centuries, women have risen above their traditional roles to pursue new understanding of the natural world. This book, which grows out of an exhibit at the Grolier Club in New York, introduces the lives, sayings, and dreams of sixteen women over four centuries and chronicles their contributions to mathematics, physics, chemistry, astronomy, computer science, and medicine. Sweeping and inspirational, this book should be read by all girls and young women who share curiosity about the world and the dream of making a difference.
About the Author
Pendred E. Noyce is a physician, an advocate for science education, and a mother of five. She has helped lead National Science Foundation education projects and helps run a foundation dedicated to math and science education. Her past books for children include the award-winning Lexicon series and several Galactic Academy of Science adventures with inset minibiographies of scientists. She lives in Boston, Massachusetts.
Praise For Magnificent Minds: 16 Pioneering Women in Science and Medicine…
"The exhibition celebrates [women scientists'] accomplishments, and makes it plain that they are all the more extraordinary given the deeply entrenched biases they had to overcome. There were parents who thought it improper or wasteful to educate girls; universities and professional societies that would not admit women; employers who either would not hire them or would not pay a fair wage. But there were also mentors and champions who opened doors and gave credit where it was due." —New York Times review of the Grolier Club exhibition that forms the basis of this book
"The sixteen heroines of these pages dared their way to discovery. In her recounting of their achievements, Pendred Noyce assures the new generation of STEM-empowered girls that women have a history in science as well as a future." —Dava Sobel, author, Longitude, Galileo's Daughter, A More Perfect Heaven
"A wonderful collection of stories . . . The author provided explanation and context of both a scientific and a geopolitical nature. I hope the author will keep the stories coming." —Shirley Malcolm, head of Education and Human Resources, American Association for the Advancement of Science