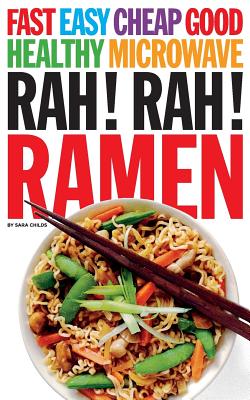 Rah! Rah! Ramen
Paperback

* Individual store prices may vary.
Description
Rah Rah Ramen by Sara Childs. Fast, Easy, Cheap, Good and Healthy microwave cooking for students and lovers of ramen. With a few simple ingredients, a few minutes and a microwave, meals, including dessert, are ready to eat. A valuable alternative to student "fast food," cheaper and healther too 53 recipes, kitchen-tested and photographed with easy to follow instructions. Perfect for the starving student or just a fast meal. Ramen is inexpensive and using a microwave oven is faster than standing in line to order a fast food burger. Ramen has almost half the calories of a popular fast food chicken sandwich, less than a third of the calories of a reuben sandwich and has less than a quarter of the fat and a third of the calories of deep fried xcrispy chicken tenders. It's high in carbohydrates and if you use the flavor packet, fat and sodium. BUT... the up side is, ramen has fewer calories than many fast foods. But ramen noodles can be more than a super fast microwavable carbohydrate meal. If you discard the flavor packet, add a can of stewed tomatoes, some Italian herbs, powdered garlic and dried onion flakes you've created Ramen Marinara in 5 to 7 minutes or try Ramen in Red Clam Sauce, the prep and cooking time is 7 to 10 minutes. Ramen is one of the cheapest foods in the supermarket and with imagination can be a versatile staple in your college cuisine. RAH RAH RAMEN recipes will add flavor and variety for a super fast, super-cheap, super-good meal.
Interactive Direct, 9780989803632, 128pp.
Publication Date: May 9, 2014