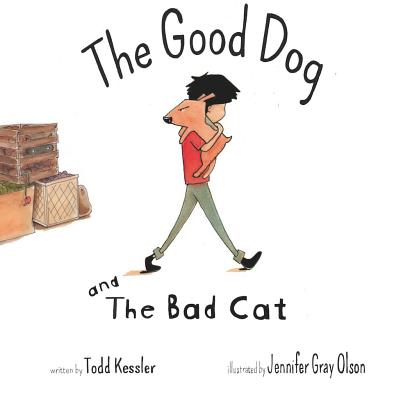 The Good Dog and the Bad Cat
Hardcover

* Individual store prices may vary.
Description
From the creator of Blue's Clues...
A mysterious thief is stealing from the Lee family household and bakery and it's up to little puppy Tako to catch the culprit. Tako succeeds in exposing Allie, a feisty cat, but when she gets thrown out of the house Tako begins to have second thoughts about the consequences of his actions. Tako may be the only one who can uncover the truth, but to do so he will have to fight the vicious river rats and learn there may be more to the mischievous cat than what meets the eye.
Praise For The Good Dog and the Bad Cat…
"This long-form picture book offers a lengthier story to youngsters who might not be ready for chapter books. Though over 100 pages, water-color illustrations cover each one and keep the story moving. The result is a sweet account of friendship and adventure that will please kids for whom one picture book is never enough."  —Booklist

"It's the stories that matter . . . [kids] want to think, they want to expand their mind, they want to understand the world around them. They do that through character and story . . . In [The Good Dog and the Bad Cat], there's a question of:  are your first impressions of somebody else right or wrong and if someone does something bad to you, is that the end of that person? Or can things change?  They are open-ended questions, because I always want to press kids to think for themselves."  —Todd Kessler, author, from his interview with Casual Muse entitled Kids Don't Have a Short Attention Span
Coralstone, 9780989808514, 107pp.
Publication Date: September 1, 2016
About the Author
Todd Kessler is the cocreator of the highly successful children's television series Blue's Clues. His artistic and innovative creations have garnered him the Peabody Award, seven Emmy nominations, two Television Critics Association awards, and five Parent's Choice awards. He is the author of The Good Dog. He lives in Los Angeles. Jennifer Gray Olson is an illustrator who enjoys creating funny and offbeat characters. She is the author and illustrator of Ninja Bunny and the illustrator of The Good Dog. She lives in Corona, California.