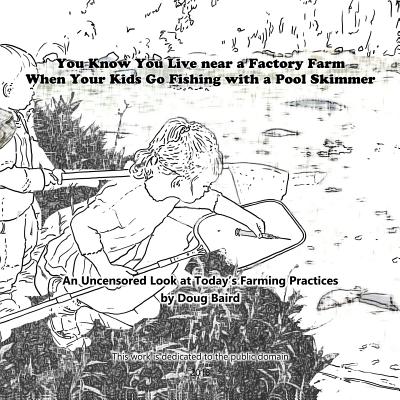 You Know You Live near a Factory Farm When Your Kids Go Fishing with a Pool Skim
An Uncensored Look at Today's Farming Practices
Paperback

* Individual store prices may vary.
Description
In Rural America the biggest threat to the health and well-being of the community is the same activity that once strengthened and nurtured it - farming. Industrial farming is rolling the dice against a dystopian future of environmental meltdown, antibiotic-resistant pathogens, and genetically modified organisms in a race to quickly amass wealth. Using a simple picture-book style, and the buoyancy of humor, this book navigates the flood of destructive farming practices that have already engulfed the rural community, and are spreading.
Doug Baird Art, 9780989860871, 44pp.
Publication Date: August 13, 2018
About the Author
Doug Baird is an artist and writer living in Lansing, New York, who believes that both art and humor have transcendent properties. Doug is project leader for the Idea Enhancement Project, a fiscally sponsored project of the New York Foundation for the Arts, exploring the use of art as a practical tool for increasing innovative and creative thinking. His blog, Rural Tompkins County - The Road to Hell is Paved with Good Credentials, investigates elitist policy making in New York, and its effect on the rural community. He is the author of two poetry collections: As a Poet, I have a Confession and Please Take Care when You Utter a Curse. Representative artworks can be viewed at DougBairdArt.com