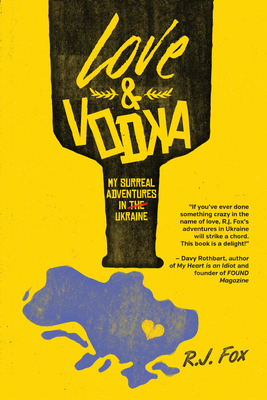 Love & Vodka
My Surreal Adventures in Ukraine
Paperback

* Individual store prices may vary.
Description
Love & Vodka is a book with broad appeal. It is a unique hybrid of travel memoir and love story that seamlessly blends humor, culture shock, and romance. It is about taking a chance in life and seeing where it leads, as well as learning more about the world—and about yourself. The world is large and full of potential; one just needs to be willing to take a gamble and explore the possibilities that exist.

Bobby is over the moon after sharing a bike on the E.T. ride at Universal Studios with Katya. Join our "intrepid crusader" as he takes a leap of faith—traveling from comfortable "have-a-nice day…and have-a-warm-shower" suburban Detroit to the former center of Cold War Soviet missile production. And unbeknownst to anyone but himself, he's bringing an engagement ring! Experience life in a city that, until the mid-1980s, was closed to foreign visitors. R.J. Fox's humorous, poignant, and memorable expedition is punctuated by a colorful cast of characters, adventures, and cultural mishaps and misunderstandings—from irate babushka women to hard-drinking uncles. Lesser mortals might have "phoned home" to be rescued. Armchair travelers and romantics—you will find yourself both schooled in hard knocks and heartened to have shared in the unforgettable experience of Love & Vodka!

"Za vashe zdorovie!"
Praise For Love & Vodka: My Surreal Adventures in Ukraine…
"Imagine a world where people think, act, and respond differently to the way you've always known—and then let R.J. Fox take you there. Not enough has been written about everyday life in the former Soviet Union, and it's captured beautifully here."  —Tony Hawks, author, Round Ireland with a Fridge


"If you've ever done something crazy in the name of love, R.J. Fox's adventures in Ukraine will strike a chord. This book is a delight!"  —Davy Rothbart, author, Found: The Best Lost, Tossed, and Forgotten Items from Around the World


"For all of us who wish we were more adventurous in travel and in love, R.J. Fox is the perfect guide to Ukraine and the heart. Love & Vodka is funny, moving, and full of surprises."  —Laura Kasischke, author, In a Perfect World


"A witty, engaging story of introspection, taking chances, and one American's journey into Ukraine, a land that needs understanding now more than ever."  —Lev Golinkin, author, A Backpack, a Bear, and Eight Crates of Vodka


"Love & Vodka is an old-fashioned love story told with uncommon wit and unabashed warmth. R.J. Fox guides his readers through the dangers of cold showers, straight liquor, and unfamiliar customs, to sweet new romance under gentle Ukrainian rain."  —Ana Maria Spagna, author, 100 Skills You'll Need for the End of the World (As We Know It)


"Love & Vodka is a warm, funny tale of an American who follows his heart to Ukraine. There he discovers a world where men are meant to be strong, drink copious amounts of vodka and resuscitate cars seemingly beyond repair. Will he or won't he win his girl? Read on to find out in this zany tour of Ukraine through the eyes of a young Michigander."  —Susan Viets, author, Picnic at the Iron Curtain


 "Love & Vodka is an easy ride to this foreign land. The kind of travelogue you want to take to bed or the beach or the metro . . . one to be read when you have the time to truly savor a travel experience. It's a blend of love story, light history lessons and a close look at Ukraine through the eyes of a young, American man."  —Adriana Páramo, author, Looking for Esperanza


 "Sharply observed and wickedly funny. When romance goes Ukrainian!" Jack Barker, editor, TravelMag: The Independent Spirit

Fish Out of Water Books, 9780989908702, 286pp.
Publication Date: November 11, 2015
About the Author
R.J. Fox is an English and video production teacher who uses his own dream of making movies to inspire his students to follow their dreams. He has previously worked in public relations and as a journalist. He is the writer and director of several short films and has written short stories, plays, poems, and several feature-length screenplays. He lives in Ann Arbor, Michigan.
or
Not Currently Available for Direct Purchase