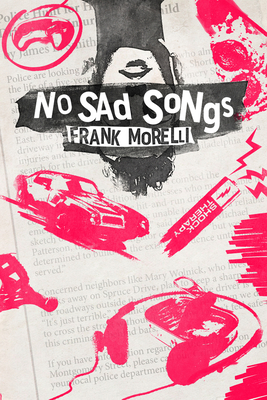 No Sad Songs (Paperback)
Fish Out of Water Books, 9780989908740, 228pp.
Publication Date: February 20, 2018
* Individual store prices may vary.
Description
Following a family tragedy, 18-year-old Gabe LoScuda suddenly finds himself thrust into the role of caregiver for his ailing grandfather. Between the shopping trips and the doctor visits with Grandpa, Gabe and his friend John try to salvage their senior year, meet girls, and make the varsity baseball team. It doesn't take long for Gabe to realize that going to school and looking after a grandfather with Alzheimer's is more work than he ever imagined. And when long-lost Uncle Nick appears on the scene, Gabe soon finds that living with Nick and Grandpa is like babysitting two grown men. Aside from John, the only person who truly understands Gabe is Sofia, a punk-rocking rebel he meets at the veteran's hospital. When these three unlikely friends are faced with a serious dilemma, will they do what it takes to save Grandpa? If there's a chance of preserving the final shreds of Grandpa's dignity, Gabe may have to make the most gut-wrenching decision of his life—and there's no way out.

About the Author
Frank Morelli has been a teacher, a coach, a bagel builder, a stock boy, a pretzel salesman, a bus driver, a postal employee, a JC Penney model (see: clerk), an actual clerk (like in the movie of the same name), a camp counselor, a roving sports reporter, and a nuclear physicist (okay, maybe that's not true). At heart, he's a writer, and that's all he's ever been. His fiction and essays have appeared in more than 30 publications, including Cobalt Review, Indiana Voice Journal, Jersey Devil Press, Philadelphia Stories, and The Saturday Evening Post. His sports themed column, Peanuts & Crackerjacks, appears monthly at Change Seven Magazine. He lives in High Point, North Carolina.
Praise For No Sad Songs…
"Full of heart and humor . . . will make young readers take stock of their own parents' responsibilities, and what it means to make sacrifices for the ones you love."  —Booklist
"An emotional story, filled with lots of laughter and great sadness . . . smartly written, with beautiful characters and a compelling plot."  —Foreword Reviews
"No Sad Songs is lovely and funny and heart-aching and true. I didn't want it to end. But the big-hearted story and characters—especially the very real, unforgettable Gabe—will stay with me for a long, long time."  —Jennifer Niven, author, All the Bright Places
"No Sad Songs explores the complexities of family, love, and loss, as we follow one young man on a powerful, heart wrenching journey of self-discovery—one that is perfectly balanced with both humor and hope."  —Amber Smith, author, The Way I Used to Be
"In No Sad Songs, Frank Morelli has written a beautiful, poignant book about the near-impossible burdens that can be foisted upon us by our unpredictable lives. Gabe LoScuda trudges through the mud in the front lines of his own personal war, and he does it with so much heart you can't help but root for him. Reading Gabe's story, we learn to appreciate, as he does, the people in our lives who can be patient with us as we struggle toward our own awakening—the friends and family who can tell us we're being idiots while still continuing to love us, every muddy step of the way."  —Jack Cheng, author, See You in the Cosmos
"No Sad Songs manages to be at once a funny, heartbreaking, and life-affirming coming of age story about the family we love and hate, self-discovery, and the promises we make and which we choose to keep."  —Estelle Laure, author, This Raging Light and But Then I Came Back
"In No Sad Songs, Morelli deftly balances genuinely hilarious moments with gut-punchingly moving ones. A big-hearted, seriously funny read."  —Lance Rubin, author, Denton Little's Deathdate
"Frank Morelli's No Sad Songs burns bright. With lacerating prose and emotional honesty, Morelli vividly captures the intensity and freedom of young adulthood and the crushing responsibilities of being an adult. The book veers raucously and with wild, teenage abandon from fart jokes to Thoreau and, in between, makes room for me to feel deeply for Gabe LoScuda and to break my heart." —Bryan Hurt, author, Everyone Wants to be Ambassador to France
"A must for any YA collection."  —School Library Journal