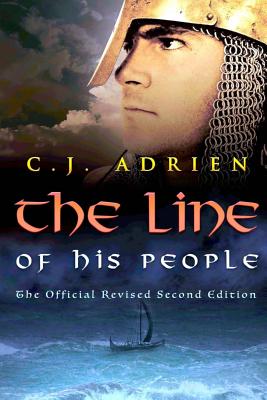 The Line of His People
Paperback

* Individual store prices may vary.
Description
"The author conjures up the times well. Viking lovers will pillage through the pages." - Rob London, author of We, The Network. "A well-written tale with vividly imagined characters and a plot that kept me interested the whole time." - Trevor Schmidt, author of The Corsair Uprising series. France, 799 A.D. Northmen sacked the monastery at dawn before anyone had awakened. They burned the village and slaughtered all who stood in their path. The relics of Saint Philbert were lost and the island was abandoned by those who once dwelled there. Sixteen years later a monk named Abriel who had survived the attack as a boy is sent to recover the relics to help restore the reputation and legitimacy of the order. What he discovers on his journey changes his life forever. Northmen had colonized the island in the absence of the monks. They hold the key to finding the relics, but they have greater plans for Abriel; plans that will take him to the North to find his destiny. Includes an excerpt from The Oath of the Father (Kindred of the Sea, vol. 2).
Cj Adrien, 9780989929127, 388pp.
Publication Date: June 16, 2014
About the Author
C.J. Adrien, a French-American scholar with a passion for Vikings, developed his love for history at the Chateau de Noirmoutier, a site renowned for its influence by Scandinavian raiders. Today you can regularly count on him to surprise anyone, including his fifth grade students, dressed in a full set of 10th Century Norman armor. His debut novel, The Line of His People, was inspired by research he conducted in preparation for a doctoral program in early medieval history as well as his admiration for historical fiction writers such as Bernard Cornwell and Ken Follett. You can follow C.J. Adrien on Twitter (@ChristophAdri1), on Facebook (facebook.com/cjadrien), and on his website cjadrien.com
or
Not Currently Available for Direct Purchase