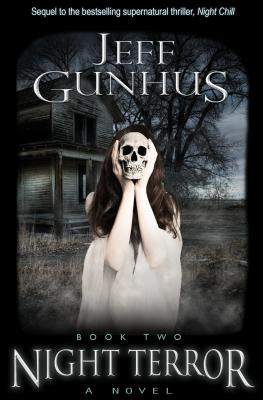 Night Terror
Book #2
Paperback

* Individual store prices may vary.
Description
Sequel to the Amazon Bestseller, Night Chill. Ten years after her abduction and near-sacrifice to the Source, Sarah Tremont struggles to be a normal teenager. As much as she's tried to suppress the power inside of her, it's grown dangerously strong and has drawn the attention of those who want to possess her power for themselves. The nightmare that she thought was long over starts again as powerful forces descend upon Prescott City to seek her out. With her parents and Joseph Lonetree's help, Sarah must stand up to an evil much more powerful than the one she faced in the caves a decade earlier. But in the end, she discovers the greatest danger might come from the power living inside of her.
Praise For Night Terror: Book #2…
"Night Terror is reminiscent of a Stephen King novel."
– Lynda Dickson

"A super read – a book I literally did not put down until I was done."
– Charie D. La Marr

"This is an excellent follow up to Gunhus's Night Chill book. It is just as eerie, chilling, and even harder to put down – if possible – than the first book in this series…I highly recommend this series to all readers who enjoy things that go bump in the night, especially of the paranormal variety, but I suggest that you may want to turn on some extra lights if reading it at night!"
– A Goddess Of Literature

"If you are brave enough, if you can handle horror that is both the actual gore written on the pages along with the perfect imagery for your mind to go off on your own tangent wondering what horrors are coming next, this is the book for you. That is one thing I love about Jeff's writing, yes – it is gory and that is creepy to read, but the fear that your own mind races to create along side the written word, that is talent. It's an excellent mix of both."
– Heather A from Not Everyone's Mama
Seven Guns Press, 9780989946148, 394pp.
Publication Date: September 8, 2014
About the Author
Jeff Gunhus is the author of horror and thriller novels for adults and the middle grade/YA series The Templar Chronicles. His book, Jack Templar Monster Hunter, was written in an effort to get his reluctant reader eleven-year old son excited about reading. It worked and a new series was born. After his experience with his son, he is passionate about helping parents reach young reluctant readers and is active in child literacy issues. As a father of five, he leads an active lifestyle in Maryland with his wife Nicole by trying to constantly keep up with his kids. In rare moments of quiet, he can be found in the back of the City Dock Cafe in Annapolis working on his next novel.