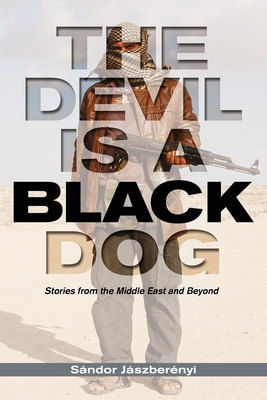 The Devil is a Black Dog
Stories from the Middle East and Beyond
Paperback

* Individual store prices may vary.
Description
In the nineteen extraordinary stories that comprise The Devil Is a Black Dog and Other Stories, writer and photojournalist Sándor Jászberényi shows us the human side of war and revolution in the contemporary Middle East and Africa, and of the social upheaval that has held Eastern Europe in its grip since the fall of communism. Characters contemplate the meaning of home, love, despair, family, and friendship against the backdrop of brutality. From Cairo to the Gaza Strip, from Benghazi to Budapest, religious men have their faith challenged, and people under the duress of war or traumatic personal memories deal with the feelings that emerge. Often they seem to suppress these feelings . . . but, no, not quite. 

 Set in countries the author has reported from or lived in, these stories are all told from different perspectives, but always with the individual at the center: the mother, the soldier, the martyr, the religious man, the journalist, and so on. They form a kaleidoscope of miniworlds, of moments, of decisions that together put a face, an emotion, a thought behind humans who confront war and conflict. Although they are fiction, they could have all happened exactly as they are told. Each story leaves a powerful visual image, an unforgettable image you conjure up again and again. 

 Jászberényi is able to do all this so convincingly, in part, because he himself is not a "helicopter journalist" but rather lives in a residential Cairo neighborhood. He is, moreover, from a corner of Eastern Europe where cynicism almost equates with survival, and yet his writing evinces not only wry humor but great sensitivity and a profound sense of beauty. He speaks Arabic (in addition to English and his native Hungarian) and immerses himself in the society he reports on. But, in doing so, he still remains a reporter, and as such the stories are approached with the clinical, observant eye of an outsider. Whether addressing the contradictions of international humanitarian work or the moral dilemmas faced by those who seek to improve the health and lives of women and girls, he does so in a singularly provocative and yet intelligent manner.
Praise For The Devil is a Black Dog: Stories from the Middle East and Beyond…
See the book trailer at https://www.youtube.com/watch?v=x4xmDZs65Sg

"[Jászberényi]--or his fictional alter-ego--is the type of hardboiled, self-embedded reporter who goes against the flow, telling the stories of characters that mainstream journalists . . . rarely encounter. . . . These extraordinary stories are searingly truthful, and could only have been written by someone who has succeeded in his wish 'to see the face of evil'--in the world, in others, and even, possibly, in himself." -- The Independent

"Journalist Jászberényi's stories about war correspondents, combatants and victims ring as true as any nonfiction. . . . This is heady, dizzying writing, rapt with cleareyed descriptions of armed children, brutal executions, sniper fire and sandstorms. . . .  Whether set in Sudan, Egypt or Gaza, each story reveals something about the nature of war and finds a kind of clinical sympathy not only for those caught up in it, but also for those who wage it. . . . Jászberényi finds a kind of poetry in these wars, even as he declines to turn a blind eye to the suffering they bring. These stories sound more like Philip Caputo or Tim O'Brien than a postmodern accounting of current events. A master class in how to tell a war story." -- Kirkus Reviews (Starred Review)

"Each tale is a rich, poetic slice of life from places you might never go—such as Egypt and Chad. . . . The stories all describe experiences alien to Westerners and skilfully explore material about which readers are curious: two guys bullshitting at their jobs, which happen to be verifying the numbers of massacred civilians; a dude living with townspeople who fear a wild dog that has enjoyed human blood. . . . Mr. J[ászberényi] is a gifted writer, this book is to be savored and relished." -- Library Journal

"A rare specimen of acutely perceptive and enjoyably evocative contemporary writing about Africa and the Middle East. . . . Jászberenyi joins the cadre of writers . . . who have come back from hardship postings offering not just trophy war stories but genuine insights into challengingly unfamiliar lands and cultures. Such writers remind us of the true role of a foreign correspondent (a role many of them, Jászberenyi included, play as their day job)." -- The Quarterly Conversation
"An extraordinary book. . . . Jászberényi's prose is visceral, his writing a testament to mankind's endless capacity for killing and destruction. But he is a skilled enough reporter not to overload the reader. . . . Matt Henderson Ellis's excellent translation – spare, limpid – lends the prose an almost Hemingwayesque quality. . . . In the end Jászberényi, too, is looking for someone to love. During the Egyptian Revolution he meets Sahra, an alluring and courageous photojournalist.  They have intense, impersonal sex, but something more is flowering. . . . Even here, among the blood and tear gas, there is always hope." -- Adam LeBor, Times Literary Supplement

"Jászberényi is brutally frank in his stories of how the civil strife–wracked Africa and Middle East have not only demeaned the value of life and death but also killed the sensitivity of reporters and photographers to these horrors even while they seek to provoke the moral outrage of the outside world."--David Ottaway, former Washington Post correspondent in Africa and the Middle East

"This is one of the most honest books I have ever read. The author forgoes the journalistic altruism and moral obligation that books on reporting in crisis regions typically, disingenuously emphasize. Instead, The Devil Is a Black Dog is a truly authentic dive into the psyche, spirituality, and frailty of mankind. Jászberényi deftly portrays all that through the lenses of both situations accessible to Western readers and exotic circumstances in a region regarded as violent and rife with hardship." -- Brian Dabbs, former editor of the Egypt Independent, former contributor to the New York Times and Al-Jazeera

"[The] characters in this slim but unforgettable volume cover Egyptian-Palestinian relations and move across the Sudanese frontier. They wait nervously at the Gaza border with plans to smuggle material into Egypt and to seek refuge from Gaddafi's sharpshooters.... Throughout Jaszberenyi writes about the experience of war, taking us closer to a comprehension of the people trapped in its midst.... An indispensable volume that helps us to remember and regard some of the greatest ruptures of our time."  --Sydney Morning Herald

"The amorality, brutality and nihilism of Jászberényi's world is relentless. . . . When you consider the autobiographical element to his work, Jászberényi makes Hemingway or Ryszard Kapuściński seem fat and soft. . . . In the context of Hungarian literature, Jászberényi is a dangerous heretic, a cosh-wielding ruffian. Not since Jenő Rejtő's tales of the French Foreign Legion in the 1930s has the page been filled with so much testosterone-fuelled bare-knuckle action. . . . Whereas Péter Eszterházy, László Krasznahorkai and Péter Nádas write long, intricate sentences full of learned allusions, piling up massive paragraphs, one on top of the other, Jászberényi, like his characters, gets straight to the action.  . . . [He] captures the darkness masterfully." --Tibor Fischer, Guardian

"Jászberényi's writing is spare, evocative and honest. There is a refreshing lack of moralising on the destruction and corruption witnessed across conflicts. Fact and detail trump opinion. The author looks instead for meaning in the suffering. . . . What people will do in order to survive is a recurring theme. Jászberényi is particularly good on what happens to foreign correspondents, the detachment from emotion necessary to carry out their role." -- Irish Times 

"Sándor Jászberényi writes world-weary prose that drinks heavily, dangles a cigarette from its lips and has a $5-a-day whore on its arm. It likes short sentences and doesn't worry too much about literary niceties. . . . It fancies itself a little bit Hemingway, and likes an old-fashioned twist." -- The Saturday Paper (Australia)
 
"As a writer and photojournalist, Jászberenyi has figured out the fine art of storytelling, something he probably worked on during his years of covering wars, revolutions and conflicts as a foreign correspondent in the Middle East and parts of Africa." -- Deccan Herald (India)

"At what point should a journalist transmute first-hand experience into fiction? Where does one draw the line between what can be reported as fact and what should probably be reported some other way, even if one has seen it with one's own eyes, heard it with one's own ears? Sandor Jaszberenyi's The Devil is a Black Dog brings these questions to the fore without ever stating them explicitly. . . . While [his] work to some extent ­recalls that of Ryszard Kapuscinski (though he has obviously learned the lessons of Kapuscinski's partly tarnished reputation, using the word fiction when it should be used), it has more in common formally with the interstitial vignettes of Ernest Hemingway's In Our Time." -- The Australian 

"Until I read The Devil Is a Black Dog . . . it had never occurred to me just how distressing and traumatic it must be to live the life of a foreign correspondent. . . . The world of the reporter in war-ravaged countries is one of brutish trauma and nihilism. Even amid the ceasefire or in the quiet, solitary moments, the darkness reaches out a chilly hand to remind each individual that savagery and barbarity are never far away." -- SaltyPopcorn.com.au
 
"A must read – not just for aficionados of war fiction or readers interested in the Middle East, but for anyone interested in understanding the borders and boundaries of sanity in the face of extreme violence. A note of caution though: these stories have a way of sticking in the mind." -- Earthen Lamp Journal
"Reading Jaszberenyi is profoundly moving and unsettling--in his bewildering range of settings, ranging from forgotten villages in trackless, sandy wastes of Darfur, the highlands of Yemen, windswept towns in Gaza Strip where death is never far away, soulless cities in Europe, and more. . . . These stories . . . show our imperfect and unjust world in ways you would never have thought possible." --www.business-standard.com (India)

"Stunning. . . . Jászberényi doesn't glorify war and violence by any means. He is able to express their horrors in ways that, depending on the story, provokes outrage, heartbreak, cynicism and fear, all the while showing that there is a price to pay for . . . freedom. . . . No one gets off scot-free in this book." -- B O D Y (www.bodyliterature.com) 

"Sándor Jászberenyi is a real pro at writing short stories, and with this book he joins the top ranks of the genre's contemporary practitioners." -- Élet és Irodalom, Hungary
 
"Hell has different forms, but Jászberényi moves comfortably in them all." -- www.konyves.blog.hu, Hungary
 
"Jaszberenyi not just writes, but tells. Let me be a bit pathetic instead of him: he shows his heart. He would never call that particular organ a heart, that would be way too sentimental for him; instead he says: look at this fistful of bloody meat--that's me." --Népszabadság, Hungary
New Europe Books, 9780990004325, 208pp.
Publication Date: December 9, 2014
About the Author
Sándor Jászberényi is a Hungarian writer and Middle East correspondent who has covered the Darfur crisis, the revolutions in Egypt and Libya, the Gaza War, and the Huthi uprising in Yemen, and has interviewed several armed Islamist groups. A photojournalist for the Egypt Independent and Hungarian newspapers, he currently lives in Cairo, Egypt. Born in 1980 in Sopron, Hungary, he studied literature, philosophy, and Arabic at ELTE university in Budapest. His stories have been published in all the major Hungarian literary magazines and in English in the Brooklyn Rail, Pilvax, and BODY Literature (www.BodyLiterature.com). The release of his first collection of short stories, Az ördög egy fekete kutya (The Devil is a Black Dog), in late 2013--both in Hungary (Kalligram) and Italy (Anfora Editore)--was treated with much fanfare in his native land; for it marked the arrival of a distinctive new voice in Hungarian letters, one whose credible focus on timely international themes and settings carries the potential for a broad international readership. His work represents a uniquely Hungarian twist on the tradition of the late, great Ryszard Kapuściński, while also evoking--without imitating--the work of writers as diverse as Ernest Hemingway and Graham Greene. The author lives in Cairo, Egypt.