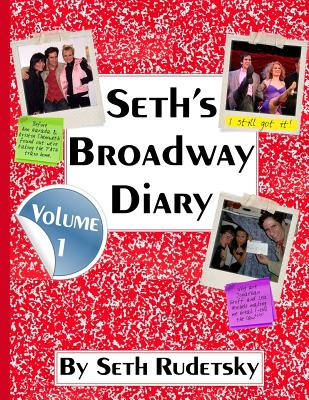 Seth's Broadway Diary, Volume 1 (Paperback)
Dress Circle Publishing, 9780990316152, 308pp.
Publication Date: October 5, 2014
* Individual store prices may vary.
Description
"If you don't happen to have a nice gay Jewish nephew who is a musical genius and hilariously funny with ties to musical comedy stars and an obsessive need to pick apart every single note of their careers, and who also comes home and tells you all about it while dishing them and ordering Chinese take-out not to mention counting calories all at the same time, then Seth Rudetsky is your man. Please buy this amaaaaahzing book so he'll stop e-mailing me."" -Nathan Lane
A compilation of Seth's hilarious, Broadway-centric "Onstage and Backstage" columns for Playbill.com, chronicling Seth Rudetsky's unique life on and around the Great White Way. Seth's Broadway Diary is full of his personal Broadway experiences, such as going to the final performance and party for Rent, watching in terror as Jeff Bowen was dragged off the stage during title of show] and the night he saw Spring Awakening and helped Jonathan Groff and Lea Michele break (-ish)the law. Plus, inside scoop on what it's like performing with tons of fantastic stars like Rosie Perez, Andrea McArdle, Betty Buckley, Bernadette Peters and more.
About the Author
SETH RUDETSKY has worked as the music director and/or pianist for some of Broadway's biggest stars: Audra McDonald, Andrea Martin, Brian Stokes Mitchell, Megan Mullally, Kristin Chenoweth, Idina Menzel, Patti LuPone, Christine Ebersole, Megan Hilty and many more. He spent years as a pianist on Broadway playing such shows as LES MIZ, THE PRODUCERS and RAGTIME and currently divides his time between being the afternoon deejay on the SiriusXM Broadway channel/ host of "Seth Speaks" as well as touring North America doing his show DECONSTRUCTING BROADWAY. His novel, "MY AWESOME/AWFUL POPULARITY PLAN," was published by Random House and the sequel "THE RISE AND FALL OF A THEATER GEEK" comes out in 2015. You can watch all of Seth's videos on SethTV.com.