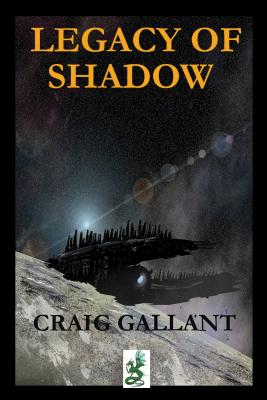 The Legacy of Shadow
Paperback

* Individual store prices may vary.
Description
Penumbra, a haphazard city of outcasts, rebels, and malcontents, has floated around a dead planet in a backwater system for longer than living memory can recall. Its towers abandoned starships melded to an ancient, mysterious core, Penumbra is the last remnant of chaotic individualism in a galaxy where conformity to the will of the all-powerful Galactic Council is paramount. Dropped into this dangerous mix is Marcus Wells, a human of Earth who has squandered his potential to live a life of least resistance, and his adventurous friend Justin. Immediately entangled in local politics and targeted by a vengeful representative of the Council determined to drag the city back into the fold, Marcus has a choice to make: continue following the path of least resistance and allow Penumbra to fall, or show these aliens what a truly determined Human can accomplish.
Zmok, 9780990364917, 275pp.
Publication Date: May 7, 2016
About the Author
Craig Gallant is from rural New Hampshire where he does his best to warp space and time to fit far more activity into each day than anyone, including his wife, thinks would be advisable. During the day Craig teaches Theatre and Literature courses to the intrepid students of Milford High School. After hours Craig actively pursues kickboxing and mixed martial arts, and is one of the two hosts of the wildly mediocre and not-too-horrible general gaming podcast The D6 Generation. He is husband to a remarkably supportive wife and father to clearly the smartest, cutest, and most promising three year old on the planet (an entirely objective assessment). Craig plays games whenever he can find the time and the opponents, ranging from his recent favorite, a classic South American dice game called Perudo, to whatever the local tabletop war-game flavor of the month happens to be. And in all the voluminous free-time this schedule allows, Craig writes. Always an avid reader and a writer for his own pleasure, recently Craig has been able to parlay that dream into a stunningly-exciting reality. For two years now Craig has written articles, rules, short stories, and background fiction for companies such as Spartan Games and Fantasy Flight Games. In August of 2012 Craig partnered up with the freshly-minted Outlaw Miniatures, where he spent the next nine months writing over 100,000 words worth of supportive fiction establishing the entire game universe for their new Wild West Exodus. In that time he was also hired as the lead writer for a line of comic books taking place in the same universe. And now, the most recent chapter in this ever-rising roller coaster of coolness, Craig prepares to embark on his newest adventure, more excited than words can convey to set his keyboard to bringing the shattered Wild West even further to life in a new series of novels featuring the iconic Jesse James: The Wild West Exodus: Jesse James Archives.
or
Not Currently Available for Direct Purchase