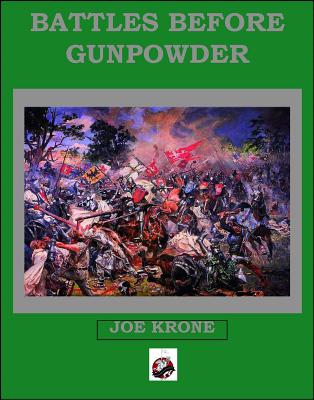 Battles Before Gunpowder (Paperback)
Winged Hussar Publishing, 9780990364924, 150pp.
Publication Date: October 17, 2016
* Individual store prices may vary.
Description
Thirty battles from the Dark ages to the War of the Roses are examined in details. Each battle gives an overall description with an order of battle that make original maps and biographies of the principal commanders. Illustration include the use of miniature soldiers to give the battle perspective. This paperback volume is in color.
About the Author
Joe Krone is an avid historical enthusiast and brought his passion to the wargaming industry early in his career. He worked for Games Workshop as a promotions and marketing manager for over six years and spent five years managing events for Battlefront Miniatures. His experiences in both the science-fiction/fantasy and historical markets have given him a broad understanding of world events and there connection to tabletop wargaming. Joe has written several articles for White Dwarf magazine and Wargames Illustrated, contributed to the 3rd Edition Flames of War rulebook and authored Osprey Publishing's Land of the Free. Born in Hartford, Connecticut he now resides in Atlanta, Georgia working as a Director of Recruiting for an executive search firm.