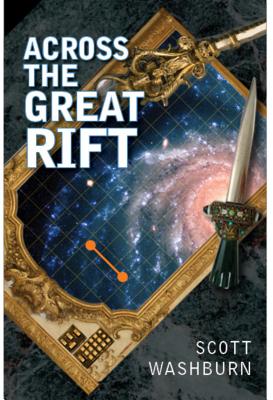 Across the Great Rift (Paperback)
Zmok, 9780990364931, 325pp.
Publication Date: July 7, 2017
Other Editions of This Title:
Paperback (2/2/2016)
Paperback (8/1/2017)
* Individual store prices may vary.
Description
A science fiction novel set in the far future. The new empires, which have arisen from the rubble of a devastating war, are looking with greedy eyes across the Great Rift to the untouched stars which lie there. Great riches and power will come to those who can control them. Engineer Charles Crawford has been dispatched with Terraformer Regina Nassau and a bold expedition on a ten-year voyage to establish a colony and transport gate on the far side of the Rift. But a rival power is determined to hijack the attempt and has secreted an agent in the expedition to disrupt it with sabotage and murder. With the political and military personnel dead, the task of carrying on falls to the engineers and technicians. Crawford and Nassau must mold the survivors into a force capable of resisting an enemy attack while continuing their primary task of establishing the colony and building the all-important transport gate. Their task is further complicated by the fact that the far side of the Rift is not as uninhabited as it was supposed to be. Refugees from the earlier, destroyed civilization have already made a home here and they look upon the newcomers with decidedly mixed emotions. Crawford and Nassau must try to win the trust of the natives if they are to have any hope against the coming enemy attack.
About the Author
Scott Washburn is an architectural designer by profession, an avid reader of military history as well as long time re-enactor and wargamer. He has written several SF&F books that are being published by Zmok Books
or
Not Currently Available for Direct Purchase