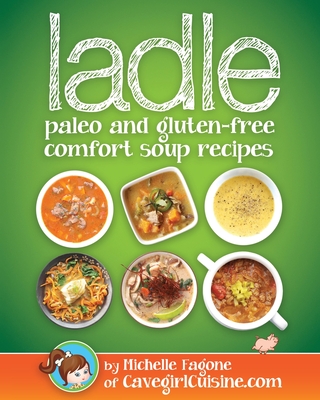 ladle
paleo and gluten-free comfort soups
Paperback

* Individual store prices may vary.
Description
Michelle Fagone, AKA Cavegirl Cuisine, has become a lovable and quirky social media sensation with a Facebook following of over 120,000 fans Her newest creation, Ladle: paleo and gluten-free soup recipes, contains 50 fresh soups laid out in a beautifully full-color photographed cookbook. From simple creamy soups that can be made in 30 minutes, to a variety of soups, stews, chowders, and chilis, there is something for everyone. Ladle is for you if you follow a paleo/gluten-free diet, are dairy intolerant, enjoy meals made from fresh ingredients, and finally, just like soup
Testimonials:
There's nothing as nourishing and comforting as a steaming bowl of soup. If you're looking to seriously level up your broth game, Michelle Fagone's Ladle is the comprehensive Paleo soup primer for you - Michelle Tam New York Times best-selling author of Nom Nom Paleo: Food For Humans
Colorful, nutritious, and flavorful, homemade soup is the ultimate, one-pot comfort food. From broth basics to simple creamy soups and international recipes with flair, Ladle is a one-stop source for everything you need to become a soup expert.- Melissa Joulwan, author of Well Fed: Paleo Recipes for People Who Love To Eat and Well Fed 2: More Paleo Recipes For People Who Love To Eat
Soups are arguably the most nourishing ways to enjoy meals, but let's face it - they can quickly become a little boring. Ladle flips that predicament on its head, with over 50 allergen-friendly recipes fit for any mood. From Bacon Chicken Chowder and Cowboy Beef Stew to Lobster Bisque, this is a must-have resource for every soup-loving foodie - Russ Crandall, New York Times bestselling author of Paleo Takeout and The Ancestral Table
I've said it before and I'll say it again, I am obsessed with soup There isn't a time of day or day of the year that soup isn't the perfect go-to meal. In true Cavegirl fashion, Michelle has married creativity and practicality with this delicious line up of year round soup recipes. If you are a soup fan like I am, you will be "souper" pleased to add this to your collection - Jennifer Robins from predominantly paleo and author of Down South Paleo
Sunny Day Publishing, LLC, 9780990382379, 76pp.
Publication Date: June 26, 2016