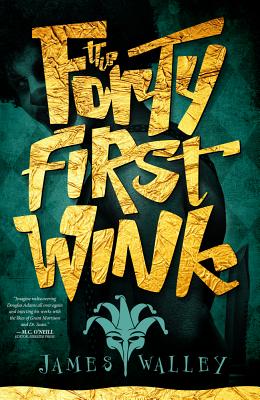 The Forty First Wink (Paperback)
Ragnarok Publications, 9780990390916, 214pp.
Publication Date: June 17, 2014
Other Editions of This Title:
MP3 CD (5/10/2016)
* Individual store prices may vary.
Description
Marty is having a bad morning. Roused from slumber by a gang of polo mallet-wielding monkeys and a mysterious voice in his wardrobe, he must come to terms with the fact that the world outside his door is now the world inside his head. Lying in wait amidst bleak, gloomy streets, deserted theme parks, and circus-themed nightclubs, lurks the oppressive shadow of a myriad of giggling, cackling pursuers, hell bent on throwing a custard pie or two into the works. Assisted by a string of half-cocked schemes, a troupe of tiny, unlikely allies, and (literally) the girl of his dreams, Marty sets out on a heroic quest... to wake up and get out of bed. Early reviews have compared The Forty First Wink to the works of Terry Pratchett and Douglas Adams. The Forty First Wink plummets headlong into the realms of askew reality, adding elements of the macabre, and squeezing in an unlikely love story for good measure. It will take you on a journey where not even the sky is the limit, and literally anything could be around the next corner. The question is, do you have the guts (and the sanity) to find out?
About the Author
Hailing from the mystical isle of Great Britain, James Walley is an author who prefers his reality banana shaped. His debut novel, The Forty First Wink, released through Ragnarok Publications in 2014, scuttles gleefully into this bracket, with a blend of humor, fantasy and the unusual. A clutch of follow up work, both short and long (including books two and three in the Wink trilogy) are in the offing, and have a similar demented flavor. When not writing, James is partial to a spot of singing, the odd horror movie or ten, and is a circus-trained juggler.
or
Not Currently Available for Direct Purchase