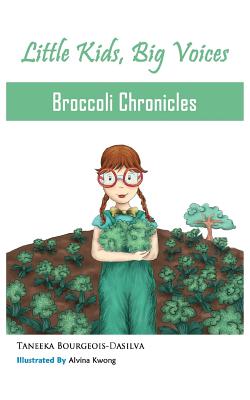 Broccoli Chronicles (Little Kids, Big Voices, Book 1) (Paperback)
Building Voices, 9780990427841, 170pp.
Publication Date: November 3, 2014
* Individual store prices may vary.
Description
Ten-year-old Myrtle Beckle lives on Sugarbird Lane with Blabbermouth Samantha and the No Eating Vegetable Club. This vegetable patrol has banned every kid on their block from eating any vegetables, which is why they mock Myrtle, the vegetable nerd, for her bizarre fascination with broccoli. While dodging their antics, Myrtle plants broccoli seeds in her backyard in hopes of one day becoming a scientist and finding a cure for cancer through broccoli. This humorous, educational, and inspiring chapter book, filled with secret clubs, rivalry, broccoli experiments, and more, proves that the voice of a child should never be ignored.
About the Author
Taneeka Bourgeois-daSilva is a new mom, wife, teacher, writer, blogger, and entrepreneur. She has over ten years' experience as a teacher and is author of the Little Kids, Big Voices book series. She has taken several creative writing courses through the UCLA Extension Writers' Program and has two Master's degrees. She is CEO of Building Voices and TCD Kids Foundation, and is a member of SCBWI and IBPA.