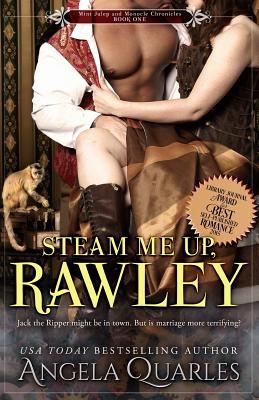 Steam Me Up, Rawley
A Steampunk Romance
Paperback

* Individual store prices may vary.
Other Editions of This Title:
Paperback (1/14/2015)
Description
Jack the Ripper might be in town. But is marriage more terrifying? In an alternate Deep South in 1890, society reporter Adele de la Pointe wants to make her own way in the world, despite her family's pressure to become a society wife. Hoping to ruin herself as a matrimonial prospect, she seizes the opportunity to cover the recent Jack the Ripper-style murders for the newspaper, but her father's dashing new intern suggests a more terrifying headline-marriage. Dr. Phillip Rawley's most daring exploit has been arriving at his new home in America in a hot air balloon. A tolerable sacrifice, if it means he can secure the hand of his new employer's daughter in a marriage of convenience. But Adele works, she's spirited, and she has an armored pet monkey running her errands. Not only does she not match his notions of a proper lady, she stirs up feelings he'd rather keep in tight control. With Adele hunting down a headline and Dr. Rawley trying to protect and pursue her, a serial killer is spreading panic throughout Mobile, Alabama. Can Adele and Rawley find the murderer, face their fears, and discover true love?
Angela Trigg, 9780990540045, 294pp.
Publication Date: January 11, 2015
About the Author
Angela is a geek girl romance writer. What makes her romances geeky? Whether it's fan girling over Ada Lovelace by having her as a secondary character in Must Love Breeches, or outright geek references with geek types in her romantic comedy with paranormal elements, Beer and Groping in Las Vegas, or going all Southern steampunk in Steam Me Up, Rawley, she likes to have fun with her romances and hopes her readers do too. Angela works at an independent bookstore and lives in a historic house in the beautiful and quirky town of Mobile, AL. When she's not writing, she enjoys the usual stuff like gardening, reading, hanging out, eating, drinking, chasing squirrels out of the walls and creating the occasional knitted scarf. She's had a varied career, including website programming and directing a small local history museum, and has discovered that writing allows her to explore all her interests. She's an admitted geek and is proud to be among the few but mighty Browncoats who watched Firefly the first night it aired. She was introduced to the wonderful world of science fiction by her father, by way of watching reruns of the original Star Trek in her tweens and later giving her a copy of Walter M. Miller Jr's A Canticle for Leibowitz as a teenager. She hasn't looked back since. She has a B.A. in Anthropology and International Studies with a minor in German from Emory University, and a Masters in Heritage Preservation from Georgia State University. She was an exchange student to Finland in high school and studied abroad in Vienna one summer in college.
or
Not Currently Available for Direct Purchase