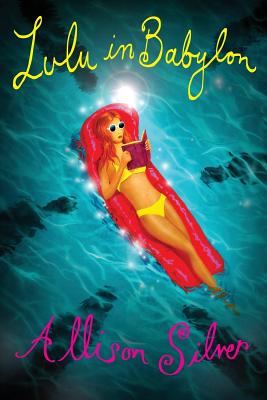 Lulu In Babylon (Paperback)
Marmont Lane, 9780990560289, 354pp.
Publication Date: April 14, 2016
* Individual store prices may vary.
Description
Allison Silver's 'Lulu in Babylon' is a lovingly observed tale of outrageous misbehavior and romantic intrigue, set in the irresistible realms of old and new Hollywood. Ms. Silver knows her way around a yacht, a Brentwood estate and a studio screening room, and she gets the details just right, in a voice that's equally rueful, comic and completely swoonworthy.
-Paul Rudnick
Silver's writing is clear and light. She also has a great handle on details, from the preferred brands of celebrities to the formulaic way that Hollywood people talk to one another, be it glad-handing industry talk or gossip... For lovers of Hollywood, this novel offers an immersive look at the past and present of the movie business.
- Kirkus Review
Allison Silver is a bonafide Hollywood insider, privy to the secret conversations and manipulations of the best and brightest in film and television - studio moguls, mega producers, star actors and actresses. That's why her hilariously honest first novel 'Lulu in Babylon' is both addictive and dangerous enough to merit a warning label: Reading this book could be hazardous to the health of showbiz careers.
- Nikki Finke
In the tradition of Michael Tolkin and Bruce Wagner, 'Lulu in Babylon' provides a scathing sociology of modern Hollywood that rings absolutely true - its obsession with status, its blatant insincerity. When you set an innocent 15 year-old girl from the East in the middle of this, what you get is 'Daisy Miller in Lotusland.'
- Neal Gabler
The central plot, spanning decades of social life and the merry-go-round of names, studios, and events, makes the novel a fine facsimile of the inner workings of Hollywood.
- Publishers Weekly
SYNOPSIS:
For the first time since her parents' divorce 10 years ago, Lulu Flintridge, 15, is spending the entire summer in Hollywood with her father, the Oscar-winning director Milo Flintridge. But she has no idea how over her head she is amid his cutthroat and striving circle of friends and associates - stars, studio heads, hangers-on and even his new wife, the beautiful Italian starlet Francesca Frateli.
Milo, past 50 and eager to draw his estranged daughter into his world, gives her the diary of her late grandfather, the ruthless movie mogul, A.J. Flintridge -- nee Abe Fleishman. But even this can't prepare her for Ben Robbins, the manipulative ex-studio president frantically setting up a new go picture, whose path fatefully crosses Lulu's on a yacht off Corsica. Or Jazzy Hirshberg, a studio head's daughter, age 17 going on 30. And certainly not for Connor Ericson, the young English actor whose career is skyrocketing that summer.
Lulu is smart and savvy, educated in the mores of her mother's East Coast Establishment family, the Sturgeses of Boston. But Hollywood is another planet. Amid its shimmering glamor, Lulu learns that coming of age in the paradise of Hollywood can be a brutal affair.
About the Author
Allison Silver is the executive editor of Reuters Opinion. She has served as the Opinion editor at Politico, the editor of The Los Angeles Times Sunday "Opinion" section, an editor at The New York Times "Week in Review" and founding editor of The Washington Independent. She was also Politics Producer for "Charlie Rose." She is the co-author of "20th Century Travel" (Taschen). She lives in New York City.