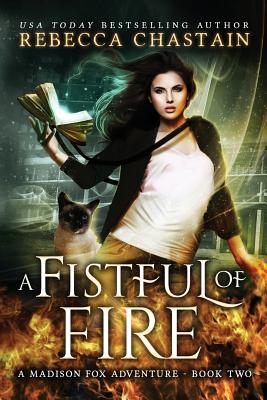 A Fistful of Fire
Paperback

* Individual store prices may vary.
Description
Madison Fox is back in hot water...
"A Fistful of Fire is what urban fantasy lovers crave most." (Open Book Society, 5 stars)
Madison Fox survived her first week as California's newest illuminant enforcer, but if her grumpy boss, Mr. Pitt, was impressed, he hasn't told Madison. In fact, there's a lot her boss has been closemouthed about, including the dark secret haunting his past.
But Madison's problems are just igniting. Neighboring regions report an uncharacteristic flare-up of evil, fire-breathing salamanders blaze unchecked across the city, and Black Friday looms. Trapped doing cleanup amid mobs of holiday shoppers, Madison watches from the sidelines as dubious allies insinuate themselves in her region.
As suspicions kindle and the mysterious evil gains strength, Madison must determine who she can trust-and whose rules to follow-before her region and career go up in flames.
Sizzling with adventure and sparking with magic, A Fistful of Fire is fused with Rebecca Chastain's trademark blend of humor and butt-kicking action.
Grab your copy today to continue the adventure
"Just as awesome as book one " (Book Passion for Life, 5 stars)
Rebecca Chastain, 9780990603153, 356pp.
Publication Date: June 15, 2016