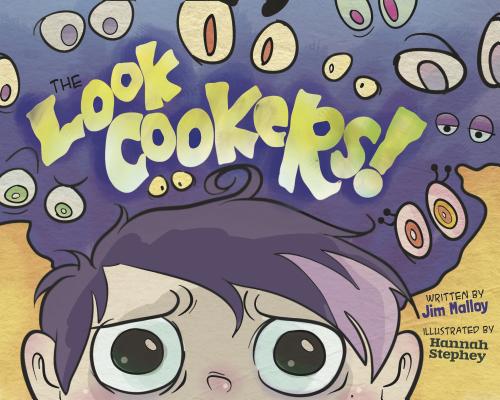 The Look Cookers!
Hardcover

* Individual store prices may vary.
Description
Mom's Choice GOLD Award.
Matthew is a normal boy in every way but one.  He is a secret agent.  But not just any kind of secret agent.
Matthew is an eye spy.
In fact, Matthew is shy.  He does not like eye contact. In his lively imagination, he envisions that anyone who looks at him has special powers - they are the Look Cookers. And he has a name for each type of Look Cooker: Peek Seekers, Glance Dancers, Blink Drinkers, Stare Darers, Gawk Stalkers, Gape Scrapers and Sight Biters (the worst of the bunch!).  
Join Matthew on his first mission…on the school bus the first day of a new year at school. He has his trusty backpack with him at all times. And he has something special inside. Experience the Look Cookers first hand and discover how he overcomes his fear of eye contact and succeeds in the end with the help of his top-secret spy device.
Praise For The Look Cookers!…
"I loved this book! From cover to cover, it had me. It's one of those shelf-jumpers. You round the corner and it shouts, "Hey! Pick me!"  The story by Jim Malloy is clever, creative, and insightful. His sensitivity transforms the timid into the powerful. Matthew, our story's leading character, has learned in the most ingenious way to overcome his fear, and dominate an otherwise intimidating situation. The inventive wording in this story will bring lots of chuckles and laughs. Hannah Stephey's crackerjack illustrations take the tale over the top and into a crowning success!  From the layout to the extras found within, the entire experience keeps you wanting more." — Darleen Wohleil, Story Monsters Ink – April 2016 issue 
3 Dreams Creative Enterprises, LLC, 9780990604501, 32pp.
Publication Date: February 1, 2015
About the Author
Often after coming home from his day job as a direct marketing executive responsible for developing and selling millions of books, music and videos, Jim told stories to his young children to entertain them at bedtime.
It is from those wonderful experiences that The Look Cookers! emerged, to be followed by Return Of The Look Cookers!  Today he brings the marketing expertise of that successful career combined with his unique creative energy to the new publishing venture, 3 Dreams Creative Enterprises.
Hannah Stephey is an illustrator and graphic designer from Chambersburg, Pennsylvania where she has her own illustration studio, Superjellyland. While this is her first book for children, she is lifelong artist and has a penchant for quirky, fun characters. She loves latte, her pug Mikey and finding ancient relics from the 90s on the internet. These and other works can be found on her website, hannahstephey.squarespace.com.
or
Not Currently Available for Direct Purchase