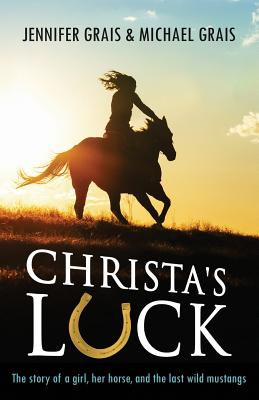 Christa's Luck
The story of a girl, her horse, and the last wild mustangs
Paperback

* Individual store prices may vary.
Description
Christa Cassidy is a fiery 13-year old cowgirl who finds it easier to get along with horses than people. Maybe that's why she is willing to risk everything in order to keep the wild mustang herds near her home in Nevada free from capture... especially a legendary band of mustangs known as the Lost Herd. Christa inspires her sister, her best friend, and her best friend's brother (her first crush) to join in her quest. When a tragic accident breaks Christa's heart and her spirit, only the Lost Herd can bring her back to life. But then a storm traps the mustangs in a flooded canyon and Christa will need to bring a divided town together in order to save them.
Inspired by a real horse rescue, this story is about Christa's fascination with an endangered herd of wild horses and how her special connection with them inspires her to rise up to become a horse advocate at fourteen, whose passion and heart move an entire town to take action. Christa's Luck is an epic adventure story of courage, friendship and freedom.

Praise For Christa's Luck: The story of a girl, her horse, and the last wild mustangs…
"Michael Grais, the co-screenwriter of the 1982 film Poltergeist, and his wife, Jennifer, develop the plot handily, with a slow build toward a final, cinematic crisis in which Christa and her friends enact a daring rescue. …[T]his is a satisfying YA novel—with a bold, visionary, and active young heroine, to boot. Highly recommended for young fans of horse-related fiction." —Kirkus Reviews
"I just finished reading Christa's Luck. All I can say is I haven't finished a book sinceHarry Potter that I wanted the author to hurry up with the second. I don't even know what Jennifer and Michael have planned but I sure hope their pens are moving right now. Well, for now I will just reread their great book." –Susan Pommer, Gold Medalist Grand Prix Dressage winner
"I instructed everyone to stay away as I read Christa's Luck. I was so emotional and drawn into the story. The book just keeps rolling and rolling and rolling and building on itself like waves. I totally loved it. I had a spring in my step for days thinking about it and I still miss that family. I can see it on the big screen too." –Jean Dillon, Plymouth, MN
"I was biting my fingers during the climax!" –Janet Hogue, Portland OR
Jennifer Grais, 9780990605300, 328pp.
Publication Date: June 15, 2015