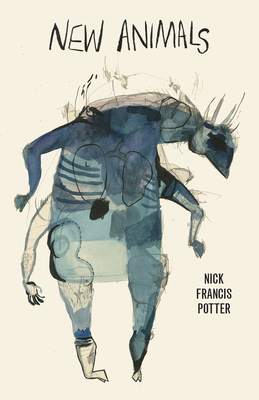 New Animals
Paperback

* Individual store prices may vary.
Description
Fiction. Art. A young pioneer woman wanders into an oilfield guarded by a temporary Goliath who used to date her mother. An aspiring artist/entrepreneur marries a machine filled with birds to himself and his wife. A masculinity cult seeks the advice of their mothers regarding the resurrection of Paul. A headless drifter beset with stray arrows finds a new head and falls into a void. In his debut collection of comics and prose, Nick Francis Potter delivers an absurd and innovative quiver of stories over-spilling with dark humor and wild imagination.

When I first read Nick Potter's amazing story 'Oops, Isaac, ' a few years back, I was impressed--with the daring, the verve, the substance, the invention of this very serious, very funny story. I am delighted to see NEW ANIMALS, Potter's first collection of stories--and cartoons --is just as daring, inventive, funny, and serious. Watch out, animal world of indie readers, thinkers, cartoonists, philosophers, and comics, you have an extremely impressive new primate among you.--Rebecca Brown

A magnificent mash-up is what I thought upon reading (no, not reading as much as absorbing) the graphic stories and storied graphics of Nick Francis Potter's new NEW ANIMALS. There is much to talk about art's organic forms and structures, but this work is organic in spades, whole kitchen sinks of carbon chains. It is and is about decompositions of subject and style that then compose themselves into radiant riots of rot. It goes all wabi-sabi on us. Here, Mr. Poe yins as Dr. Seuss yangs (or the other way around), all the time frying these mashed-up skillets with the deadest of deadpan pans.--Michael Martone.
Subito Press, 9780990661221, 250pp.
Publication Date: April 1, 2016
or
Not Currently Available for Direct Purchase