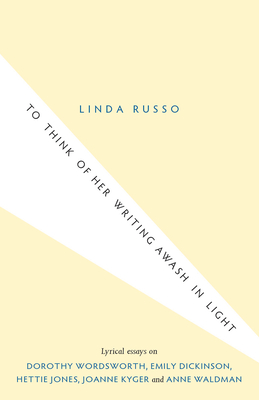 To Think of Her Writing Awash in Light
Paperback

* Individual store prices may vary.
Description
Literary Nonfiction. Poetry. Hybrid Genre. Women's Studies. The inventive and lyrical essays that comprise TO THINK OF HER WRITING AWASH IN LIGHT take up the work of four women writers--Dorothy Wordsworth, Emily Dickinson, Hettie Jones, and Anne Waldman--to recast literary histories and illuminate anew the matter of the lives lived alongside and through poetry. Analyzing and re-imagining moments in the shift in definition over two centuries--beginning with Wordsworth's 1800 journals and ending with the completion of Waldman's epic Iovis Trilogy in 2012--they highlight the changing role of women as they emerge from the margins of literary production to take up the work of being poets. That is the primary lens these essays create, in the process investigating the essayist-poet's relationship to her materials, pushing at the boundaries of critical and creative writing.

The often thought to be ephemeral parts of a gendered writing life are made major in Linda Russo's TO THINK OF HER WRITING AWASH IN LIGHT. She spends time with the edits of Dorothy Wordsworth's journals, with Emily Dickinson's desk and her envelopes, with Hettie Jones's typing of Yugen as editing, with reading out loud as she writes of reading from Anne Waldman's epic Iovis with Joanne Kyger. In the tradition of Susan Howe and Lisa Robertson, it's a book that might be essay and might be literary criticism and might just be a love poem too. It surprises and delights with its serious beauty.--Juliana Spahr

I read AWASH on a sunny windy day in West Texas from whence we 'go' to Cambridge Mass to see Emily Dickson's desk and later Mount Auburn Cemetery to Bob Creeley's grave and later on Hettie Jones's east village apartment that once held a press. At Joanne Kyger's table we read Anne Waldman's Iovis. Thanks to Dorothy Wordsworth's diaries it seems we visit she. Each light inflected visitation holds writing not aloft but as an alive three dimensional thing where we are swaying alongside Linda Russo and a train of others. It's pure being this reading, that's its delight as we move about poetry and its moments like it were art, or history intimacy itself and as Russo succinctly puts it 'the lack of an authoritative reading frets no one involved in this occasion.'--Eileen Myles.
Subito Press, 9780990661245, 80pp.
Publication Date: April 1, 2016
or
Not Currently Available for Direct Purchase