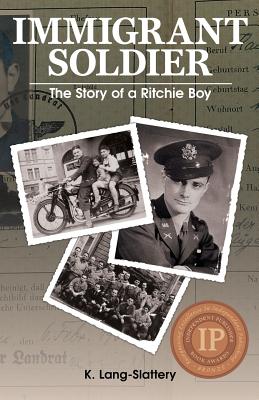 Immigrant Soldier (Paperback)
The Story of a Ritchie Boy
Pacific Bookworks, 9780990674207, 424pp.
Publication Date: February 15, 2015
* Individual store prices may vary.
Description
Immigrant Soldier, The Story of a Ritchie Boy, based on the true experiences of a refugee from Nazi Germany, combines a coming of age story with an immigrant tale and a World War II adventure. On a cold November morning in 1938, Herman watches in horror as his cousin is arrested. As a Jew, he realizes it is past time to flee Germany, a decision that catapults him from one adventure to another, his life changed forever by the gathering storm of world events. Gradually, Herman evolves from a frustrated teenager, looking for a place to belong, into a confident U.S. Army Intelligence officer who struggles with hate and forgiveness.
About the Author
Kathryn Lang Slattery is a published author of fiction and nonfiction for youth and has become an expert on many aspects of the Ritchie Boys of WWII.
Praise For Immigrant Soldier: The Story of a Ritchie Boy…
"In this debut historical novel, a young German Jew flees his homeland before World War II and is later drafted into the US Army, serving closely under the legendary Gen. George S. Patton. Lang-Slattery effectively mines family history to create a solid work of historical fiction from her uncle's real-life derring-do. . . . In the sunny glamour of the book's California passages, she effectively evokes the young immigrant's overflowing hope. . . . Overall, her uncle's fictionalized adventures never fail to interest, whether he's slipping behind the lines for Patton or simply attempting to romance the local girls. An often engaging tale of one man's involvement in the world's most horrific war." 

— Kirkus Reviews

"Lang-Slattery grounds the memories and stories of Lang, who was her uncle, with a great deal of research, and she tells those stories in vivid prose and very lively dialogue to make a memorable WWII-era coming-of-age story."

— Joanna Urquhart, Historical Fiction Society

This work of historical fiction closely follows the story of Herman Lang's WWII experience. Lang witnesses the rise of anti-Jewish sentiment and laws as a young teenager in Germany, eventually gaining passage to England as he awaits a hard-won U.S. visa. He succeeds, but is carried forward into the tides of war. . . . The plot follows Lang's service in the Third Army under General Patton as they battle eastward through France and Germany. Most of the characters are based on famous WWII personalities like Patton, with special focus on the G-2 Intelligence Service of the U.S. Army. . . . Lang succeeds in his mission through accurate character assessment and intellectual guile. . . . The author, Captain Lang's niece, has relied heavily on facts, only fleshing out conversations and internal thoughts of characters. A useful map and a short biography of the real Herman Lang is provided. The result is engaging and informative.

– US Review of Books, Recommended