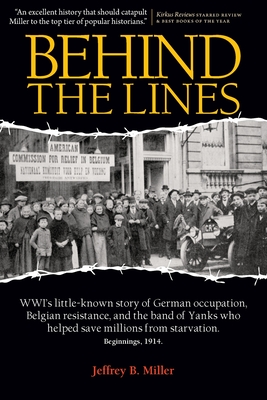 Behind the Lines
WWI's Little-Known Story of German Occupation, Belgian Resistance, and the Band of Yanks Who Saved Millions from Starv
Paperback

* Individual store prices may vary.
Description
This book has earned a coveted Kirkus Star Review (www.kirkusreviews.com). The last sentence of the review states: "An excellent history that should catapult Miller to the top tier of popular historians." During World War I, the Commission for Relief in Belgium (CRB) initiated, organized, and supervised the largest food and relief drive the world had ever seen. Working in concert with its counterpart in Belgium, the Comit National, the CRB fed and clothed for four years more than 9 million Belgians and northern French trapped behind German lines. Young, idealistic Americans volunteered to be CRB delegates and go into German-occupied Belgium to guarantee the food would not be taken by the Germans. They had to maintain strict neutrality in what they said and did as they watched the Belgians suffer under the harsh German regime. Covering August 1914 through December 1914, this nonfiction book, Behind the Lines, follows a handful of CRB delegates, a twenty-two-year-old Belgian woman, two U.S. diplomats, the head of the CRB, and two Belgians-a businessman and a priest-who team up to fight the German occupation. It is a story that few have heard.
Jbm Publishing Company, 9780990689300, 482pp.
Publication Date: September 16, 2014