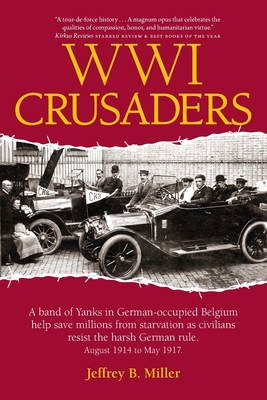 Wwi Crusaders (Paperback)
A Band of Yanks in German-Occupied Belgium Help Save Millions from Starvation as Civilians Resist the Harsh German Rul
Milbrown Press, 9780990689386, 726pp.
Publication Date: October 22, 2018
* Individual store prices may vary.
Description
The true story of young, untested American volunteers who entered German-occupied Belgium during WWI (1914-1918) to attempt what had never been done before -- save an entire nation from starvation that was trapped in the middle of a world war. One of America's greatest humanitarian efforts is little-known today. WWI Crusaders brings the past to life by telling the personal stories behind the facts in an as-it's-happening style.
During WWI, the American-led, nongovernmental Commission for Relief in Belgium (CRB) initiated, organized, and supervised the largest food relief program the world had ever seen. The CRB and its Belgian counterpart, the Comit National (CN), fed for four years nearly 10 million Belgians and northern French trapped behind German lines. The relief efforts faced huge logistical challenges, international intrigues, and internal conflicts between the leaders of the CRB and CN.
Young, idealistic Americans volunteered to go into German-occupied Belgium to guarantee the relief food would not be taken by the Germans. These humanitarian crusaders, known as CRB delegates, had to maintain strict neutrality as they watched the Belgians suffer under the harsh German regime. They also had to deal with a faction of Belgians who resented the Americans' presence and tried to limit their authority.
WWI Crusaders is the first book for general readers that tells in one volume the interlacing stories of German brutality, Belgian resistance, and the young Americans who went into German-occupied Belgium. The situation in German-occupied Belgium during the war caused a tumbling together of extraordinary people into a chain reaction of life-and-death situations far from the trenches and killing fields of World War I. And hanging in the balance were millions of civilian lives.
Through lively personal stories, this nonfiction book follows a handful of young CRB delegates, a 22-year-old Belgian woman, two American diplomats, the leaders of a Belgian underground newspaper, and the founder of the CRB, who would become known to the world as the Great Humanitarian. His name was Herbert C. Hoover.
The book covers from the beginning of the war, August 1917, to May 1917, when the last Americans left Belgium because of America's April entry into the war. An extensive epilogue wraps up all major stories and people through the end of the war and beyond.
It is a story that few have heard.
About the Author
Jeffrey B. Miller had been a writer, magazine editor, and book author for more than 40 years. His career includes starting six magazines (city, regional, and national), being editor in chief of five in-flight magazines, and serving as director of communications for AAA Colorado, where he supervised its magazine, public relations, public affairs, traffic safety programs, and website.

His first published book was Stapleton International Airport: The First Fifty Years (Pruett Publishing, 1983) that was the first history book about a major U.S. airport.

He developed the idea and co-authored with Dr. Gordon Ehlers the book Facing Your Fifties: Every Man's Reference to Mid-life Health (M. Evans & Co., 2002), that was one of Publishers Weekly's Best Books of 2002.

In 2014 he wrote and published, Behind the Lines (Milbrown Press), which detailed the chaotic beginnings of the American-led humanitarian relief to Belgium and northern France during WWI (1914-1918). The book was included in Kirkus Reviews Best Books of 2014 and the Starred Review stated: "An excellent history that should catapult Miller to the top tier of popular historians." (He's still waiting for the catapult!).

In 2015, he decided to write one book that would tell the complete story of the CRB and humanitarian relief in Belgium and northern France during WWI. That book is WWI Crusaders.

Miller was inspired to do both WWI books because his grandfather was a CRB delegate who went into German-occupied Belgium, and his grandmother was a young Belgian woman who was working in the relief efforts. When they died, he inherited all their diaries, journals, letters, and photographs from that time. He then went on to years of full-time research on WWI, Belgium, and approximately 50 CRB delegates.

It has become his life's work to make sure this little-known story of one of America's greatest humanitarian efforts is not forgotten.

The men and women who worked so hard and sacrificed so much to help others in need deserve to have their stories told.

Praise For Wwi Crusaders: A Band of Yanks in German-Occupied Belgium Help Save Millions from Starvation as Civilians Resist the Harsh German Rul…
"Miller (Behind the Lines, 2014, etc.) offers the second volume of a tour-de-force history detailing a little-known World War I humanitarian rescue mission, led by a future American president.

During the early years of the First World War, an amazing organization, the Commission for Relief in Belgium, gathered together a group of idealistic young Americans to keep the people in German-occupied Belgium from starving. Popular historian Miller continues detailing the history of this organization, which was formed and run by none other than Herbert Hoover, who left his own successful business and mining-engineering interests to lead it. He and his intrepid CRB delegates constantly struggled with German military and governmental authorities and with the Belgian relief agency Comité National, but they managed to manipulate, cajole, bluff, and fight their way to providing the most extensive food relief program in modern history. They did so by preserving their absolute political neutrality and winning the respect and support of even the German aggressors. To succeed, Hoover and his band knew they had to be on the right side of worldwide public opinion: "Hoover's understanding of this concept, and of the way the world's news media worked, would serve him and his cause extremely well from the very beginning." Miller delivers compelling portraits of young idealists who interrupted their lives to serve the CRB for no pay. He engagingly parallels this tale with the story of La Libre Belgique, a scrappy underground newspaper that continually poked the Germans in the eye; he shows how even though the Germans jailed and executed Belgian patriots associated with the paper, nothing could stop it from getting published. Miller is an accomplished writer who never gets in the way of his intriguing story, eliminating tiresome footnotes and in-text citations that might have detracted from the gripping historical narrative.

A magnum opus that celebrates the qualities of compassion, honor, and humanitarian virtue."

--Kirkus Reviews, STARRED REVIEW (Reviewed: September, 2018)