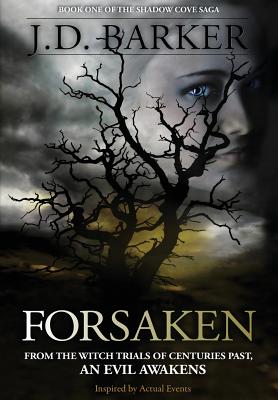 Forsaken (Hardcover)
Book One of the Shadow Cove Saga
Hampton Creek Press, 9780990694939, 344pp.
Publication Date: November 30, 2014
* Individual store prices may vary.
Description
Description "A talented writer with a delightfully devious mind " Jeffery Deaver #1 International Bestselling Author Book One of the Shadow Cove Saga Inspired by Actual Events Excerpt from the Journal of Clayton Stone - 1692 She was examined today without torture at Shadow Cove township on the charge of witchcraft. She said she was wholly innocent of the crime and has never in life renounced God. I watched as they brought her out. A poor, sickly thing, worn by her time behind the walls of her prison. Her bared feet and hands bound in leather, her clothing tattered to that of ruin. Despite such condition, her head was held high, her eyes meeting those of her accusers. Upon being stripped and examined, on her right side is found a bluish mark, much like a clover leaf; it was thrice pricked therein but she felt no pain and no blood flowed from the wound. She still refuses to provide her name so we remain unable to search baptismal records, nor has her family stepped forward to claim her as their own. We have no reason to believe she is anything but an orphaned child. I find myself unable to look at her directly in the moments preceding her trial. She is watching me though; with eyes of the deepest blue, she is watching me. Thad McAlister, Witch When horror author Thad McAlister began his latest novel, a tale rooted in the witch trials of centuries past, the words flowed effortlessly. The story poured forth, filling page after page with the most frightening character ever to crawl from his imagination. It was his greatest work, one that would guarantee him a position among the legends of horror. But was it really fiction? Did the Witch of Shadow Cove Township actually exist? He inadvertently opened a door, one that would soon jeopardize the lives of his family. While on a business trip to New York, her followers take his family hostage, insisting his book is true - a roadmap to return her to the living. They give him three days to travel to a town he believes only exists in his mind, three days to return with the remains of a witch who couldn't possibly be real. If the book truly is fiction, his family is as good as dead. If it's somehow true, if it's really a plan four hundred years in the making, one set to release this witch upon the world, God help us all. At home, his wife struggles to keep their family alive. Secretly wondering if she inadvertently caused it all...a deal she made long ago. A deal with the Forsaken.