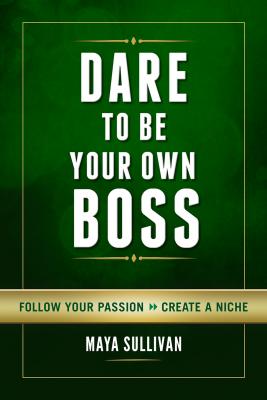 Dare to Be Your Own Boss: Follow Your Passion, Create a Niche (Paperback)
Follow Your Passion, Create a Niche
Maya Sullivan, LLC, 9780990754206, 346pp.
Publication Date: March 26, 2015
Description
The prospect of being one's own boss appeals to millions of individuals. Yet it can be challenging to know what type of enterprise to create or when to make the leap. Dare To Be Your Own Boss: Follow Your Passion, Create a Niche helps a person design a business that is both viable and fulfilling.

Entrepreneurs include a variety of individuals such as employees experiencing burnout, baby boomers who are too vibrant to retire, and graduates who dread the thought of working in an office cubicle for 50 years.

Launching a successful venture is a five-step process:

Step one - involves tapping into what sparks one's enthusiasm. The book offers readers 14 ways to clarify what is important to them in a fulfilling livelihood. Clues to an ideal vocation are embedded in values, strengths, childhood dreams, and other areas.

Step two - encompasses looking at areas where there is a demand for products and services. This includes selecting the types of groups to serve such as seniors, children or businesses. In others words the type of people one feels impassioned to serve.

The book explores a variety of ideas and offers 300 resources and over 600 opportunities that can help in discovering thousands of potential niches.

Step three - involves matchmaking, taking ideas from steps one and two then combining them to identify concepts that resonate. The greater the excitement for what a person is doing, the more likely she is to prosper.

Step four - focuses on market research and includes 16 sources of information and a list of 21 questions. Learning about the potential viability of a concept, the reality behind the dream, can save time and money. It involves looking at trends and kinds of businesses that could do well, even in weak economies, for well-managed enterprises.

Step five - is about moving forward and taking 50 action steps to make it happen.

Complimentary spreadsheet. There are exercises throughout the book to help readers gain insight into their interests and level of enthusiasm. A complimentary spreadsheet, which is downloadable at DareToBeYourOwnBoss.net, makes it easy to record what is appealing and offers a big picture of one's entrepreneurial traits, interests and potential ventures.

Dare To Be Your Own Boss encourages readers to follow their heart and make a difference in their own unique way.


Praise For Dare to Be Your Own Boss: Follow Your Passion, Create a Niche…
KIRKUS REVIEWS

"Kirkus' Indie Books of the Month Selection." Kirkus Reviews (August 2015

This combination self-assessment and idea starter should spark the interest of anyone with entrepreneurial drive.

Debut author Sullivan, herself an entrepreneur and small-business trainer, enters a crowded category but sets her work apart with its good intentions. Rather than supply the how-to advice commonly found in most be-your-own-boss books, Sullivan explores the motivational aspects of pursuing the entrepreneurial dream while also providing a wealth of business ideas. In the book's first section, Sullivan offers such entries as "10 traits for entrepreneurial success," "six benefits and six drawbacks" of being your own boss, and "14 keys to ignite your enthusiasm and passion." Part 2 digs into the details of where an entrepreneur's passion may lie. Here, Sullivan walks the reader through "12 areas of opportunity," including both general and specific conceptual ideas. For example, the first two chapters in this section make a useful distinction between focusing on selling to consumers versus selling to businesses (B2B), while another chapter addresses selling to governments. Other areas key in on current trends that suggest possible areas of business opportunity: e.g., food and family farms, pets and companion animals, assisting seniors and people with disabilities, and "promoting a sustainable future." A chapter entitled "Serving Needs of the Global Population" puts forth the concept of "social entrepreneurship." The book's final section concerns the entrepreneur's assessment of the viability of a chosen idea. Here, Sullivan lays out a process for idea evaluation, offers helpful advice about how to do market research to determine an idea's value, and provides an alphabetical listing of "50 Steps to Starting Your Business." She includes a helpful multipurpose spreadsheet that can be used to rate areas of interest and ends with an extensive resources section. Sullivan applies a refreshing amount of altruism to her choice of categories that should give would-be entrepreneurs a sense of purpose as they consider what direction to take.

Clearly and cogently written, a thought-provoking book that provides useful guidance to entrepreneurial risk takers as well as a treasure trove of potential business ideas.


Book Life by Publishers Weekly

Many people dream about starting their own businesses and working for themselves, but few are confident enough to forgo a steady paycheck and leap into the unknown. Sullivan, a self-admitted serial career reinventor, seeks to increase the odds of success in this in-depth informative guide. The key, she states, is to discover what excites your passion and then match it with a venture. The book consists of three sections, namely "Becoming Your Own Boss," "12 Areas of Opportunity," and "Moving Forward." Sullivan begins with the basics, identifying six benefits and six drawbacks of being the boss, with expanded income potential and enhanced well-being on the upside, and financial uncertainty and no subsidized benefits on the downside. She also explores options for financing that range from traditional investors to crowdfunding. Sullivan goes on to list "14 Keys to Ignite Your Passion and Enthusiasm." Part Two focuses on categories of industries to explore, such as business-to-business, and goods and services. The last section is perhaps the most crucial, exploring the all-important concept of viability, followed by a lengthy list of resources for new business owners. While Sullivan doesn't claim to have a roadmap to success, she does arm readers with knowledge that will be handy in getting there.
Advertisement