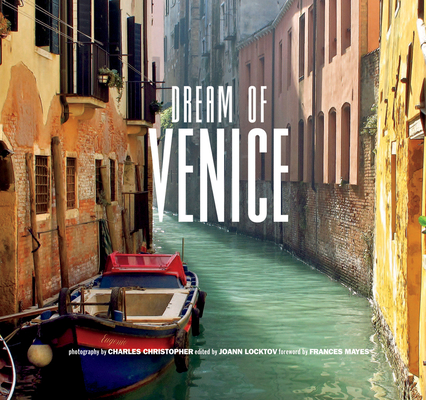 Dream of Venice (Hardcover)
Bella Figura Publications, 9780990772507, 96pp.
Publication Date: December 5, 2014
* Individual store prices may vary.
Description
The mysterious allure of the ancient floating city of Venice is captured in this book of evocative photography and beguiling words of a diverse group of contemporary Venetophiles. The luminous photographs, in both color and black and white, compliment the intimate thoughts, memories, poems, and stories of notable contributors from the worlds of art, literature, design, cuisine, music, and filmmaking. Readers will want to listen to the silence of the canals and get lost in the ethereal mist of Piazza San Marco. Included are anecdotes and Venetian recollections from Woody Allen, Julie Christie, Diane Hales, Marcella Hazan, Erica Jong, Judith Martin, Linus Roache, and Nicolas Roeg.
About the Author
Charles Christopher is a motion picture and TV still photographer for clients that include Hallmark, Lifetime, NBC, Syfy, and Universal Pictures. His architectural, travel, and cityscape photographs have been included in exhibits up and down the West Coast. He lives in Los Angeles, California. JoAnn Locktov is the founder of Bella Figura Communications, a public relations agency that specializes in design and architecture. She is the author of The Art of Mosaic Design and Mosaic Art and Style. She lives in Mill Valley, California. Frances Mayes is a preeminent poet, memoirist, essayist, and novelist. Her internationally best-selling books, including Under Magnolia and Under the Tuscan Sun, revolve around her life in Tuscany and her travels throughout the world. She lives in Hillsborough, North Carolina.
Praise For Dream of Venice…
"This is a beautiful book on Venice by the many writers who have fallen in love with the city. The photographs are intoxicating."  —Erica Jong, author, Fear of Flying
"If Venice is a dream state, then a new book about the city built on a lagoon is its vivid interpretation. Dream of Venice is a book full of visions. Some are reverential images captured by Charles Christopher, a copywriter-turned-photographer who spent two weeks there in 2011. Others are prose poetry from the likes of Frances Mayes, Peggy Guggenheim, Patricia Highsmith, Erica Jong, and Woody Allen."  —J. Michael Welton, Huffington Post, Arts & Culture
"These very original images remind me of the time I spent there far more movingly and personally than any perfect composition featuring a famous landmark, shot to death by guided tour groups. They capture the heart and sad reality of an extraordinary and unique city."  —Nicolas Roeg, director
"Dream of Venice is different from the usual Venice gift or souvenir book. For one thing, it won't leave bruises on your thighs when you read it . . . it's more like an iPad than a 1990s-vintage laptop. You can mail it to your Venice-loving best friend, mother, or long-distance paramour without spending more on postage than you did on the book."  —Europe for Visitors, blog
"You must have experienced and loved Venice to succeed in creating such a book . . . the result is, with this book you hold the keys to experiencing Venice with all five senses—and that's what Venetians love about his book."  —Iris Loredana, blogger, A Garden in Venice
"Dream of Venice, edited by Joann Locktov, contains none of the gondola shots we have seen a million times before . . . you can see the silence of the car-free city, breathe the characteristic mixture of wet building blocks and salty air, and feel the tiny pinpricks of moisture on your skin, just by looking at the pictures. It's almost like being there."  —Italian Notes, blog
"An utterly sumptuous collection of photographs, each captioned with pertinent prose, each penned by a chosen contributor with anecdotes, extracts, poems and special pieces of prose." —Tina Hartas, tripfiction.com

or
Not Currently Available for Direct Purchase