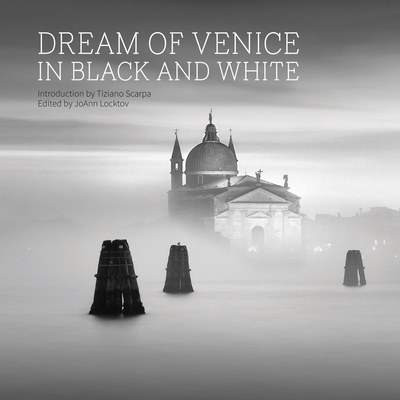 Dream of Venice in Black and White
Hardcover

* Individual store prices may vary.
Description
Dream of Venice in Black and White reveals Venice as a narrative in chiaroscuro. Over 50 photographers from 10 countries have documented the city to create a visual legacy of elegant realism in light and shadow. The acclaimed Italian author Tiziano Scarpa contributes a poignant reflection of his life as a Venetian, experiencing "perpetual change." His eloquent and candid Introduction exposes the complex issues that threaten the survival of Venice. Venice has had the audacity to exist as a living city for over 1,500 years. But for how much longer?

Dream of Venice in Black and White is dedicated to Gianni Berengo Gardin. His photographs, both captivating and controversial, have become intrinsic to Italy's collective conscious.

A portion of the proceeds from each book will be donated to the Ikona Photo Gallery, located in Venice's Ghetto Nuovo.
Praise For Dream of Venice in Black and White…
"An enchanted Venice, in black and white, like a dream. But this is really the authentic Venice, a dream-reality that we must love and defend."  — Salvatore Settis, author, If Venice Dies

"This remarkable anthology, thanks to the wintery season, the tones of black and white and the virtual absence of tourists, offers us the romantic melancholy, the poetry of reflections and the beauty of light that are the magic of Venice."  — Philip Rylands, Director Emeritus, Peggy Guggenheim Collection, Venice

"This vision of Venice comes from a Venetian returning to his homeland. Acclaimed writer Tiziano Scarpa sees his city afresh, with wistfulness but also with the love of someone who's crossed more than a lagoon to come back. In striving to be fair, he swims between conflicting currents of opinion about the fate facing the city. Expect a very Venetian fluidity, drifting between different visions of black and white. Like the light washing over the lagoon, maybe the future is silvery-grey." — Lisa Gerard-Sharp, author and travel journalist

"Is this book a decorous black-edged invitation to a funeral? Yet there's proof of life in the provocative introduction by Tiziano Scarpa, delivering a vigorous lesson in how to see. By virtue of numbers, Venice seems to have chosen tourists as her true inhabitants. That's how she survives. Yet tourism is also what bullies her with continuous interruption, subtraction, dilution, pollution, overlay. As Scarpa suggests, leaf through this book to walk lightly on the stones of Venice. She almost cannot bear anything else."  — Michelle Lovric, author, The Book of Human Skin

"The beauty of Venice could not exist without the unwavering love of those who live and work here. This book captures with magnificent images and passionate words the spirit of a dream that the world should not take for granted."  — Shaul Bassi, Ca'Foscari University of Venice

"What deeply mysterious and evocative images. Let them transport you across all the borders of memory. They reveal the heart of Venice's power: timelessness." — Frances Mayes, author, Women in Sunlight

"We are as / in autumn / on trees / the leaves", recites one of the most famous compositions of an Italian soldier-poet, Giuseppe Ungaretti, who wrote this very brief and poignant poem inside his trench, in 1918, towards the end of World War I. A sort of precious western haiku that perfectly renders the sense of temporariness and the transient feeling that prevails in the Venice of the third millennium, so masterly described in this book by Tiziano Scarpa. Images counteract words and fully reflect the scenic complexity of a city that was a photograph before the invention of the darkroom and cinema before the cinema; a city that is painting, music and writing at the same time. Dream of Venice in Black and White returns the beauty of the gesture, the landscape, the water and the stone, the delight and cross of a city that paradoxically risks dying."  — Alberto Toso Fei, author, Mysteries of Venice

"JoAnn Locktov's latest editorial outing, the third in her Dream of Venice series, is the best yet. Who else would intuit that a city famous for its dazzling color would reveal new secrets if contributing photographers were asked to strip their palettes down to a spare black and white? The book begins with a justly famous image entitled "In a vaporetto" by Gianni Berengo Gardin—the only photo I know which fully embodies the actual feel of a Venetian vaporetto ride with its brief, serendipitous opportunities to study human character. Right after this comes an extremely original and insightful essay by Tiziano Scarpa. The book offers iconic scenes rendered with visionary effect. For instance, two images, one of the Piazza San Marco resting under aqua alta, by Matteo Chinellato (p. 23), and a second of gondolas in the middle distance, by Fabio Bressanello (p. 89), demonstrate how artistic genius can transform common sights rendered with sharp-edged realism into mysterious dream worlds. For anyone who loves Venice or wants to learn more about her, this is a treat not to be missed."  — Dial Parrott, author, The Genius of Venice

"The colorful kaleidoscope that is Venice is dramatically transformed through the artistic lenses of 56 photographers – whose work you will find in editor JoAnn Locktov's third book in the Dream of Venice series: Dream of Venice in Black and White. From 10 different countries and each with a unique perspective of Venice, the photographers skillfully lay bare the soul of La Serenissima in a masterful work of chiaroscuro – strongly contrasting light and dark to render an unforgettable glimpse into the magical city that rises from the sea. The elegant black and white perspectives reveal an emotionally charged timelessness that lies in the shadows of the Venice of postcard fame with its many colors and brightness." —Carmen Natschke, The Decorating Diva
Bella Figura Publications, 9780990772521, 96pp.
Publication Date: September 5, 2018
About the Author
Tiziano Scarpa was born in Venice, Italy in 1963. He is a novelist, poet, playwright, and journalist. In 1997 he won the Italia Prize for his writing. Scarpa's lyrical novel, Stabat Mater (Serpent's Tail, 2011) was awarded the Strega Prize, Italy's most prestigious literary honor. His acclaimed Venice is a Fish: a Sensual Guide (Gotham Books, 2008) is known throughout the world as an idiosyncratic celebration of Venice. Corpo (Einaudi, 2005) is a collection of aphorisms and short stories about fifty parts of the human body. His books have been translated into many languages including Japanese, Chinese, Russian, Hebrew, and Arabic. Scarpa has collaborated with musicians (jazz, rock, classical, pop) including Enrico Rava, Marlene Kuntz, Michele Tadini, and Debora Petrina. His essays about modern and contemporary art have featured Anish Kapoor, Tino Seghal, Mimmo Rotella, and Giorgio De Chirico. He currently lives in Venice. JoAnn Locktov is the founder of Bella Figura Publications, an imprint dedicated to publishing books on Venice. She previously edited the first two books in the "Dream of Venice" series. Beyond publishing, JoAnn is a dynamic resource on the subject of Venice. Her views on Venice, both political and cultural, have been featured in podcasts, interviews, and articles. Prior to publishing the "Dream of Venice" series, JoAnn wrote two books on contemporary mosaics for Rockport Publishers, Inc.