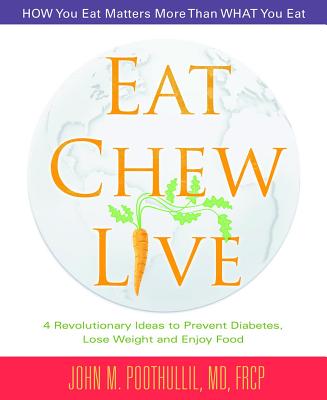 Eat, Chew, Live
4 Revolutionary Ideas to Prevent Diabetes, Lose Weight and Enjoy Food
Paperback

* Individual store prices may vary.
Description
* Winner of 2016 The Beverly Hills Book Awards Diet & Nutrition Category Diabetes is perhaps the fastest growing disease in the world. In the U.S. 1 in 3 adults over age 20 has high blood sugar and 1 in 4 adults over age 65 is fully diabetic. Yet, nearly every single person could avoid diabetes if they understood its real cause. If you are overweight or concerned about getting diabetes, Eat, Chew, Live provides exactly the inspiration you need to prevent this serious disease from altering your life-without drugs. Eat, Chew, Live offers a revolutionary new science-based explanation of what really happens in the body to cause high blood sugar. While traditional medicine blames diabetes on "insulin resistance," Dr. Poothullil disagrees, offering systematic proof of a far better biological explanation for it. According to him, diabetes is not a hormonal disease; in fact, he demonstrates that insulin resistance is not even logical. Instead, high blood sugar and diabetes are the result of the overconsumption of;grains and grain-based products that cause a normal bodily metabolism--cells burning fatty acids rather than glucose--to go haywire. This insight alone changes everything you;understood about preventing diabetes--including the possibility that you can reverse your existing diabetes and halt your medications. Eat, Chew, Live goes on to present three other revolutionary ideas to help you get in tune with your body's need for nutrition, your real hunger signals, and the causes of your overeating. You will learn how eating mindfully, chewing fully to enjoy and savor food will help you eat less, lose weight, and get control of bad eating habits. Eat, Chew, Live is unlike other books on diabetes. There are no special diets to follow, no 3rd party eating programs, and nothing to buy, It's about learning to respect your body, reconnect with your "authentic weight," and learn to enjoy food as nutrition for your body. Eat, Chew, Live has over 30 illustrations and 2 storyboards to explain the science visually. The entire book is printed in color.
Over and Above Creative, 9780990792406, 320pp.
Publication Date: June 17, 2015
or
Not Currently Available for Direct Purchase