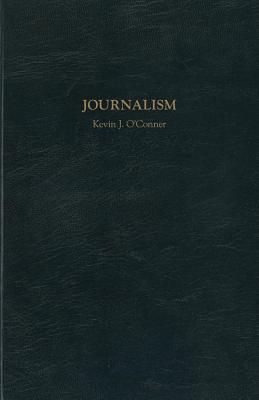 Journalism
Paperback

* Individual store prices may vary.
Alarm Cat (Design), 9780990794905, 122pp.
Publication Date: September 14, 2014
About the Author
Kevin J. O'Conner* has accomplished more in his life than he ever did before he was born. Kevin is a graphic designer, copy editor, audio editor, photographer, writer/poet/blogger, and Tinty Music mastermind. JOURNALISM, his second collection of poetry, continues the new chapter in Kevin's story that started with SEPARATION ANXIETY. Kevin has been writing poems since childhood, but it was when he began keeping a journal in 1987 that he began to explore poetry as a means of expression. This exploration took on a new urgency in early 2013, brought about by the fallout from the end of his marriage. Poetry proved to be a more effective emotional outlet than simply recounting the day's events in a journal entry. This eventually led to his first collection, SEPARATION ANXIETY. Kevin's poems are mostly written in simple, direct, expressive language-even when the subject itself is kept purposely oblique. This reflects his preference for the directness of song lyrics over the affectations of 'typical' poetry, combined with his experience as a translator and editor; in both instances, simpler language often has greater impact. In the late 1980s, he worked as a translator for a financial research company in Tokyo. (This coincided with the bursting of Japan's economic bubble-Kevin swears he had nothing to do with that.) In the 1990s, after returning to the U.S., he went back to school; upon graduating, he joined a startup that produced audio clips for online retailers, working there until the company sold out to a competitor. During that period, he released a CD and several cassettes of ambient and experimental music under the name Tinty Music. In the 2000s, after a five-year stint in real estate escrow, he went back to school again, this time to study graphic design. Unfortunately, the U.S. economy tanked shortly before graduation (Kevin says he had nothing to do with that, either); in the resulting climate, Kevin decided that writing poetry made as much sense as anything else. When not waxing poetic, Kevin can be found shooting Polaroids, checking out used book stores and record shops, and doing the occasional freelance design or copy editing gig. Kevin currently lives near Seattle with his two cats, Lucy and Trixie. * Not to be confused with the actor Kevin J. O'Connor. O'Connor has met Kathleen Turner; O'Conner has not. In fact, he's pretty much given up on that ever happening...
or
Not Currently Available for Direct Purchase