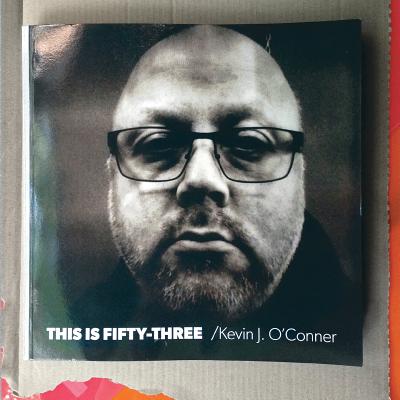 This Is Fifty-three
Paperback

* Individual store prices may vary.
Description
This is Fifty-three is Kevin J. O'Conner's seventh collection of poems--and his most ambitious to date.
This is not your typical poetry collection or photography book. Instead, it is an exploration, through words and pictures, of living with uncertainty at a time when we'd expect most of life's big questions to have been already answered.
This Is Fifty-three breaks many of the unwritten rules governing poetry books, from its 8.5" x 8.5" format to its full-color interior, with graphics and/or photographs accompanying each poem. To emphasize the personal nature of the work, a self-portrait of the poet appears on the front cover.
Finally, This Is Fifty-three is an exploration of form and craft, both in words and visuals:
In my poems, I have continued to try out different forms and styles in order to stretch myself as a writer. As for the visuals, my previous books used images to mark the boundaries between sections; here, they are an integral part of the whole, whether complementing the text, or providing a counterpoint--or stirring things up.
The end result, for better or for worse, is an honest portrayal of me at age fifty-three.
--Kevin J. O'Conner, August 2016.
Alarm Cat Press, 9780990794998, 316pp.
Publication Date: October 31, 2016