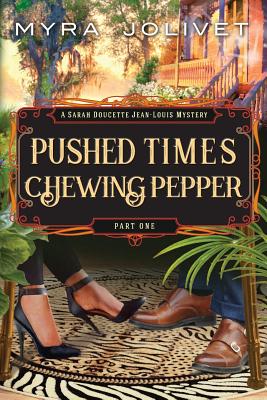 Pushed Times, Chewing Pepper
Sarah's Story
Paperback

* Individual store prices may vary.
Description
Sarah Doucette Jean-Louis is a rare woman. She is marked for murder while a suspected accessory to the mysterious murder plot. She is a trained family therapist who has a difficult time tolerating her own family for more than lunch. She is a contemporary California native with old world, Louisiana Creole roots. Her aunts and grandparents regularly talked to the dead and cast spells. They thought everyone did. In one year, Sarah's life is a haze of martini hangovers, a stalker, the wrong man, fights with a bitch cousin and the voodoo wisdom of her Aunt Cat. Then comes Michael . . . and it gets worse. Deception and disappointment bring Sarah the hardest times she's ever known and propel her into a new life. The Creoles say, "Pushed times will make a monkey chew pepper." It means that challenging times inspire unique actions. Sarah learns to use her psychic gifts for guidance and to open her mind to unique actions. Her worst year becomes the best life-changing time of her life.
Pushed Times Publishing, LLC, 9780990803201, 172pp.
Publication Date: January 28, 2015
About the Author
At 4 years old, I had an imaginary friend. I think my storytelling began there. Later came a career in television news, politics and corporate communications; more writing. Working with writing coaches and editors, I birthed the first of a series of murder mysteries that connect northern California to the colorful Louisiana Creole culture, Pushed Times, Chewing Pepper. I am a Bay Area native with Louisiana Creole roots. In our quiet Berkeley neighborhood, my parents often hosted gumbo Sundays seasoned with hushed stories of relatives who spoke to the dead and had cast more than a spell or two. Those "secrets" fueled the voice of mystery and humor within me.