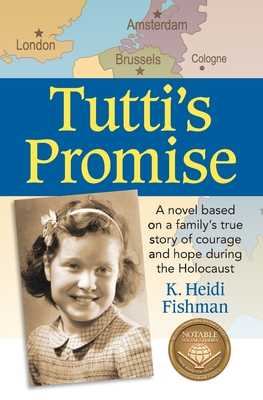 Tutti's Promise
A novel based on a family's true story of courage and hope during the Holocaust
Paperback

* Individual store prices may vary.
Description
A promise kept is like the twinkling stars in the night sky: a constant reminder of something important that makes you who you are. Those who are moved by Lois Lowry's Number the Stars will also find Tutti's Promise a courageous and memorable story.
Tutti's Promise
is the true account of the Lichtenstern family's unwavering quest to stay alive during the Holocaust while protecting others in harm's way. Written by Tutti's daughter and filled with historical photos and documents-including one very important Paraguayan passport-this multi-award-winning book draws the reader into the family's plight and reveals the precious
legacy of a promise kept. As of September 8, 2022, our paperback edition has an additional section in the back matter entitled "The Passport: Now We Know," which explains how a network of people-including Jewish leaders and Polish diplomats in Bern, Switzerland-worked together and risked their lives to get unauthorized passports into the hands of Jews in peril throughout Europe.
MB Publishing, 9780990843016, 238pp.
Publication Date: March 1, 2017