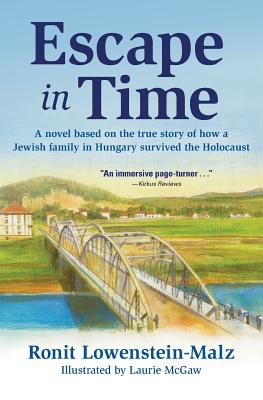 Escape in Time
A Novel Based on the True Story of How a Jewish Family in Hungary Survived the Holocaust
Paperback

* Individual store prices may vary.
Description
Nessya's grandmother, Miri Eneman Malz, has friends, a loving family-and a secret: she is a Holocaust survivor. When twelve-year-old Nessya learns the truth, she wants to know what happened. After decades of silence, Grandma Miri decides it's time to tell her story.It all begins one terrible day in the spring of 1944, when Germany crosses Hungary's border and soldiers arrive in Miri's hometown of Munk cs. Suddenly, the Jews are trapped and in danger.Surrounded by war and unimaginable hatred, the family makes a daring escape. But that is only the beginning, and over the course of the year new threats continually confront them. Incredibly, despite numerous close calls, they defy the odds and live.Based upon actual memoirs, this is the story of the Eneman family . . . of their remarkable ingenuity, astonishing luck, boundless courage, and unending love.
Praise For Escape in Time: A Novel Based on the True Story of How a Jewish Family in Hungary Survived the Holocaust…
"The novel is an immersive page-turner . . ." —Kirkus Reviews

"Readers will be moved by the family's story . . ." —Booklist

"The characters are crisply differentiated, superb illustrations
help us relate to them, and suspense runs high." —Jewish Book World

"A standout . . . truly riveting . . . to pair off quite nicely with Anne Frank's
classic Diary . . ." —Midwest Book Review

Reviewed by Diane Donovan for Midwest Book Review:

Leora Frankel translated this novel from the Hebrew and Laurie McGaw added fine duotone illustrations throughout, so it's evident that Escape in Time, Miri's Riveting Tale of Her Family's Survival During World War II is not a singular effort, but a long cooperative effort to bring this story to English audiences. And, as young readers ages 12 and older will discover, it's one well worth reading.

Miri Malz was in the Holocaust, and a survivor, and is now a cheerful grandmother who has kept the secret of her past from her grandchild. But when Nessya overhears school officials talking about inviting her grandmother to speak as a Holocaust survivor, a whole hidden world opens up - and when she confronts her grandmother, the answers she receives are difficult and strain their relationship.

One might wonder at the need for yet another YA read about a Holocaust survivor - but given the unprecedented nature of genocide and its lasting aftermath, it would seem that new stories should appear every few years as fresh reminders of the lasting impact of events, lest new generations forget, or the classic, widely-distributed writings of such as Anne Frank become overly familiar.

A packet of wartime letters, a young girl's curiosity about her heritage, a grandmother's experiences of ghetto routines, and a child's perspective of the war are supplemented by the gorgeous works of Laurie McGaw throughout (it cannot be emphasized too much that these images are realistic, lovely, and striking embellishments to the story line).

More so than most Holocaust accounts, this presentation examines the concepts of anti-Semitism from a preteen's perspective as she learns about the past's effects on her present world and family's future; and it draws important connections between family relationships and world politics, exposing an atmosphere where even a relationship with a doorman can become important.

How does an entire family survive in a world gone mad? How do they stay together, and how to they weather an increasing climate of hatred? From interacting with peers who develop into advocates of Hitler's anti-Semitic viewpoints to becoming survivors who must swallow their pride and heritage to emerge from Nazi control intact, events are relayed through letters, diary entries, and the perspective of youth.

Little miracles, sadness and delights, and the changing atmosphere of a world at war make for vivid scenes, all enhanced by a personal tone and feel that provide a 'you are there' feel to political and social changes.

In the end, that's what makes Escape in Time such a standout: a blending of the Anne Frank diary format of personal experience with observation of the changing, wider social and political world holds an ability to involve not just characters, but the reader.

Escape in Time is truly riveting, is recommended for ages 12 and older, and is especially recommended as a classroom assignment to pair off quite nicely with Anne Frank's classic Diary. There are miracles here for everyone: the miracle of survival, the lasting impact of change, and lessons for the future that make such accounts not just stories but outlines of inhumanity, hope, and survival.
MB Publishing, 9780990843030, 178pp.
Publication Date: April 16, 2015
About the Author
Ronit Lowenstein-Malz was born in Tel Aviv, Israel, on May 3, 1960. After graduating from high school, she completed two years of National Service in the Israeli "Bnei Akiva" youth movement. She earned a bachelor's degree in Biblical and Talmudic studies in 1984 and a master's degree in Biblical studies and sociology in 1998. Ms. Lowenstein-Malz worked as an educator and an administrator for over twenty years before turning to writing young-adult fiction. She is the author of nine books and is a recipient of the Yad Vashem prize for outstanding children's Holocaust literature and the Israel Public Libraries Association award for outstanding chil- dren's literature. Escape in Time is her second book.