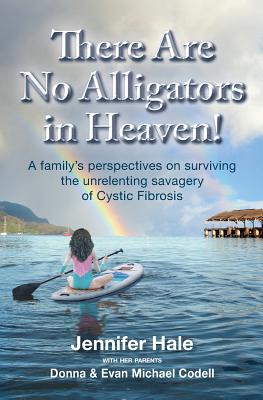 There Are No Alligators in Heaven!
A family's perspectives on surviving the unrelenting savagery of Cystic Fibrosis
Paperback

* Individual store prices may vary.
Wordsmith Associates, 9780990854722, 224pp.
Publication Date: May 8, 2017
About the Author
My name is Donna Codell. I was born and raised in the Chicagoland area. I attended Southern Illinois University where I met my husband, Evan Michael, and married him in 1969. We were blessed with our daughter, Jennifer, in 1972. At the age of 21/2, Jennifer was diagnosed with Cystic Fibrosis (CF) - a genetic disease - and we dedicated our lives to maintaining Jennifer's ability to fight the debilitating effects of CF. In those days, the average life expectancy of children with CF was 15 years. Before the diagnosis, I worked in a physician's group practice and began to learn the importance of good health. In the daily battle with Jennifer's condition, I became a fervent believer that good nutrition and an active lifestyle would be critical to our success. As Jennifer was approaching 40, still fighting the disease that claimed many in their teens, I felt we had a winning formula! This proved to be providential when my husband was diagnosed with Stage 4 lung cancer in March 2012. The doctors gave him six months which, with good nutrition and regular activity, his life was extended to almost 5 years until finally succumbed in December 2016. Our final project together as a couple is represented in the book, "There Are No Alligators in Heaven!" This is our way of telling Jennifer's story of positive thinking, physical resilience, and inner strength. Hopefully, her life's course will inspire others who are dealing with their own challenges. Since my husband and daughter have both passed away, I educate and support others on their road to a healthy lifestyle. Since 2003, I have been an active proponent of Juice Plus+ - an all-natural nutritional supplement that delivers breakthrough results, especially in boosting energy levels and the body's immune system. Find additional information at www.donnacodell.juiceplus.com.